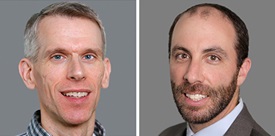 In this episode of Mathematica Policy Research's "Policy in Perspective" podcast, Senior Researchers Eric Isenberg and Jeffrey Max discuss their findings from a new study that addresses a key question in education policy: do low-income students have equal access to effective teachers? Mathematica partnered with 26 districts from across the country to answer this question for a study sponsored by the U.S. Department of Education's Institute of Education Sciences.
More details are available in the study snapshot, executive summary, and full report.
Listen and subscribe to Mathematica's "Policy in Perspective" podcasts on iTunes and SoundCloud.