Mathematica Policy Research has appointed three company leaders—Anu Rangarajan, Lisa Schwartz, and Christopher Trenholm—as senior vice presidents in recognition of their contributions to international research, business practice, and health research, respectively.
"Anu, Lisa, and Chris are widely recognized and respected for their leadership and vision, and have played essential roles in our company's progress," said Paul Decker, president and CEO of Mathematica. "I look forward to working closely with them as we strengthen Mathematica's abilities to serve public well-being around the world."
Anu Rangarajan, Ph.D., Senior Vice President, Managing Director, International Research Division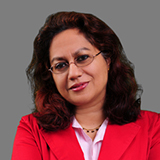 Rangarajan is managing director of Mathematica's International Research Division, overseeing all research in developing countries including in education, health and nutrition, agriculture, and infrastructure areas. Under her guidance, Mathematica's international researchers conduct rigorous impact evaluations; produce strong qualitative process studies; and provide technical assistance and support to develop measurement, evaluation, and learning approaches and to build local capacity in evaluation.
For more than 25 years, Rangarajan has been a critical contributor and leader at Mathematica serving in a variety of management and research roles. She has conducted more than 40 research studies, including many large, complex impact evaluations spanning nearly all of the company's policy areas. She is a nationally recognized thought leader in evaluation methodology and the application of methods to studying programs to serve the disadvantaged.
"Throughout her career, Anu has played a critical role in driving quality assurance and organizing and executing studies to ensure that we deliver research with rigor and objectivity to serve our clients' needs," said Decker. "Over the past decade, she has been instrumental in leading the growth of our international practice. We look forward to her continued guidance as this area grows."
Lisa Schwartz, Ph.D., Senior Vice President for Business Practice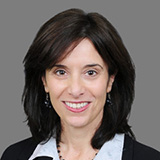 Schwartz brings more than 20 years of survey, research, and management experience to her role of directing Mathematica's efforts in client relations, business development, quality assurance, and innovative business practices. She leads corporate initiatives that focus on enhancing our business processes, improving project delivery, and incorporating administrative data into study designs as Mathematica grows in size and scope.
Schwartz is also a leading expert in employment and health survey research, with experience designing and managing qualitative and quantitative studies of vulnerable populations. She has led high-profile national projects, serves on several national panels and boards, and is widely published.
"Lisa is that rare leader who excels at a wide variety of challenges," said Decker. "She applies innovative solutions and collaborative skills to business issues, a hallmark of Mathematica's approach, as we grow and adapt to a dynamic and evolving market for research, analysis, and data."
Christopher Trenholm, Ph.D., Senior Vice President, Managing Director, Health Research Division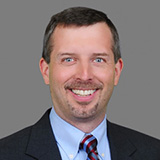 Trenholm directs Mathematica's Health Research Division, which includes more than 280 people working to provide rigorous evidence to support policy and program development as well as ongoing program operations. He has built a national reputation in two major fields of policy importance—pregnancy prevention and expanding health coverage for uninsured children—and in using innovative research designs to solve complex problems.
Over the past two decades, Trenholm also has established himself as a strategic company leader with strong technical and management skills. He has been instrumental in expanding the company's health practice and in recruiting some of the leading health researchers in the field.
"In the past year, Chris has taken the helm in directing our Health Research Division, and played a major role in launching our new Data Analytics Division. As part of both the health research and company leadership teams, Chris brings important insight to how we connect our culture to the business," said Decker. "More broadly, he embodies Mathematica's core values of excellence, collegiality, and respect."