Visualizations and Dashboards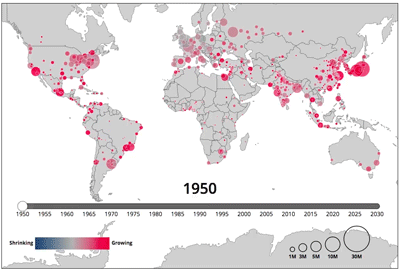 Data visualizations and dashboards translate complex ideas and concepts into a simple visual format. Patterns, trends, and relationships that might go undetected in text are detectable at a glance. Mathematica creates interactive visualizations and dashboards to communicate policy-related information effectively to a variety of audiences. Our experts work closely with a wide range of clients to develop innovative visual representations of data. We also create interactive visualizations that comply with Section 508 requirements by including alternative text, keyboard-compatible controls, and options to show visual data in 508-compatible tables.
Who Should Use Data Visualizations and Dashboards and for What?
Program administrators, researchers, media outlets, and policymakers can use our expanded and visual presentation of information to interact with and better understand data trends. With a view from the driver's seat, data visualizations and dashboards can put compelling evidence in the hands of decision makers who serve the public good.
Explore Complex Policy Challenges Using Data Visualization
Data visualization can be used at every stage of the research process: defining the context of a study, helping to collect and provide quality review, conducting data analysis, and communicating findings.
A digital exploration of Supplemental Nutrition Assistance program (SNAP) enrollment practices
This tool presents SNAP enrollment data in three modules: program history, eligibility, and participation and related research. See the SNAP data visualization.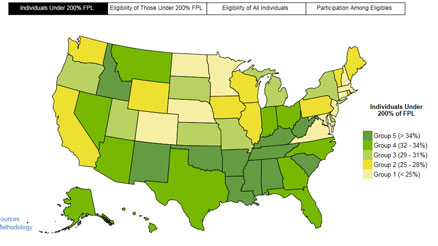 Can awarding bonuses to high-performing teachers and principals improve student achievement?
This interactive quiz asks: Can awarding bonuses to high-performing teachers and principals improve student achievement? See the interactive quiz.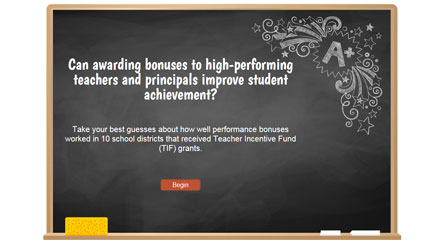 Understanding global urbanization
An urbanization visualization displays populations from 1950 to 2030 for urban agglomerations with more than one million inhabitants at any point during this time span. See the urbanization data visualization.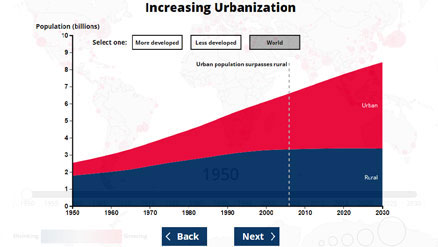 Trends in milk varieties offered in schools
This graphic tool illustrates how Mathematica's research informs nutrition standards for school meals. See the nutrition data visualization.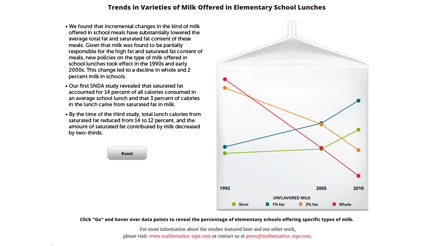 Stopping the Transmission of Opioids to the Next Generation (S.T.Op NextGen)
This dashboard was designed to help target services to women of child-bearing age at risk for opioid misuse, in order to reduce unintended pregnancies, neonatal opioid dependence, and child protective services involvement. The tool synthesizes information on national and local opioid-related death rates, patient-specific risks of opioid misuse, and nearby care facilities for women with barriers to treatment, such as lack of insurance, transportation, or child care. Try out the proof-of-concept dashboard.
Measure Performance and Track Progress Using Dashboards
Dashboards enable funders and practitioners to support data-driven policy decisions by viewing and measuring performance and tracking progress over time.
Pioneer Accountable Care Organizations (ACOs)
This web-based, interactive dashboard for Pioneer ACOs enables individual ACOs to see and measure performance results for cost and quality and benchmark this information against that of their peers. In addition, the Centers for Medicare & Medicaid Services can view progress across the program and ACO staff can track their progress over time. See the dashboard.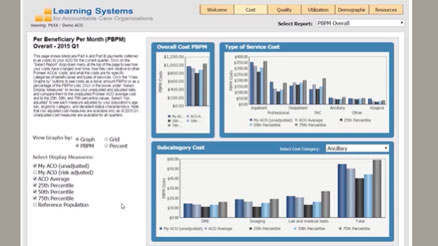 Medicaid and CHIP Business Information Solutions
Mathematica partnered with the Centers for Medicare & Medicaid Services to support innovations that will slow growth in Medicaid and Children's Health Insurance Program (CHIP) costs and increase the quality of care these programs provide. We are creating a dashboard infrastructure using robust data analytics that integrates and aligns federal and state data sources, to support policy decisions about Medicaid and CHIP. See the dashboard.