Paying It Forward and Changing Lives in the Process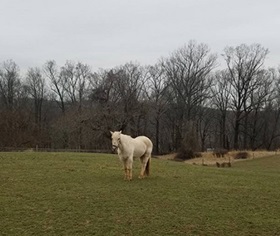 On a sweeping pasture outside of Catonsville, volunteers from our Woodlawn office support the Maryland Council for Special Equestrians in its work with children and adults with cerebral palsy, development delays, balance disorders, multiple sclerosis, and other conditions.
Since 1988, this nonprofit has provided riding lessons, camps, and educational programs to children and adults with disabilities. A riding program promotes motor planning and provides physical therapy. The organization sponsors a career-based vocational training program that teaches hands-on skills needed to care for horses. Counselors engage participants in meaningful educational activities that foster self-esteem and confidence.
A new program for elderly people brings individuals with dementia into contact with horses to foster memories long forgotten.
The Woodlawn office staff roll up their sleeves to help with farm and barn maintenance on the 200-acre center. Using their expert grant-writing skills, they also help secure funding in support of the program.
"Therapeutic riding is beneficial in many ways," said Carey Appold, director of the Woodlawn office. "It helps with physical issues such as muscle tone and balance, but it also brings out really positive behaviors."
Read more about Mathematica's corporate giving efforts.