Editor's Note: At Mathematica, we're committed to fostering diversity, equity, and inclusion in our work and among our staff. As part of Celebrate Diversity Month, we're sharing a series of staff profiles adapted from interviews that underscore how Mathematica values, appreciates, and thrives through our diversity of experience.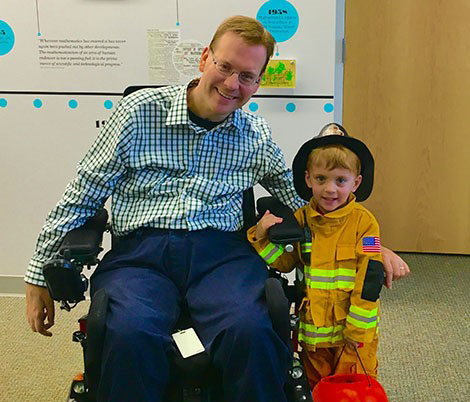 I haven't always had a disability. I suffered a spinal cord injury in a diving accident just before I turned 15. Since the accident, I have been paralyzed from my chest down as well as in my fingers and triceps. Before my accident, I was very active in organized sports and other athletic activities. Going from that level of activity to being paralyzed and needing assistance with many activities of daily living was a very humbling experience.
I believe that having lived as an able-bodied person and as a person with a disability gives me a unique perspective. Before my accident, I had no idea what it meant to have a disability—it just wasn't in my frame of reference. Living with a disability is now a daily reality for me, but because of my past experiences, I can empathize with those who are ignorant about what it's like.
Though many activities that are straightforward for others are more complex for me, it's helpful when people don't underestimate or overestimate what I'm capable of. For my part, I try to explain to others what assistance I do and do not need. I'm also always happy to engage people in a conversation if they have questions. It is important to me that I make the strongest contributions at Mathematica that I can (despite the challenges I face) because I care deeply about the work we do.
My first experience with Mathematica was as a summer fellow in 2010. As I learned about Mathematica, I discovered that I really liked the work we do as an organization. Some people might see my disability and assume that I have always been passionate about disability policy, but disability research wasn't a focus area for me when I first started. In fact, early on in my career at Mathematica, I didn't think there was much outside interest in the topic!
Whether at work or in the community, I believe it's important to challenge preconceptions and be intentional about getting to know (and consequently appreciate) those around us. I am grateful to work at an organization that shares this perspective.
David Mann is a senior researcher in Mathematica's Princeton office. A 2010 summer fellow, David joined Mathematica in June 2011 after receiving a Ph.D. in economics from the University of Pennsylvania. His research focuses on the labor force participation, human capital accumulation, and benefit receipt of youth and adults with disabilities.