New federal infrastructure investments designed to address climate change will likely accelerate job growth in the renewable energy production, energy distribution, and energy efficiency sectors. The recently signed $1.2 trillion infrastructure bill, for example, includes $65 billion in clean energy and grid-related investments. In addition, the Biden administration has proposed and Congress is considering substantial additional clean energy investments as part of the Build Back Better budget package. If enacted and coupled with planned executive actions, these investments would put the U.S. on track to substantially reduce greenhouse gas emissions. These policies could add 4 to 8 million new jobs to an economy that is already experiencing a record number of job openings. Effectively addressing climate change won't just require better climate policies—it will require better workforce policies and programs to ensure the U.S. labor force has the skills needed for these jobs. Effective and equitable job preparation should include the creation of new pathways to these jobs for diverse communities, including those historically marginalized and those displaced from declining sectors such as fossil fuel production.
New workforce policies focused on clean energy could help narrow existing labor market disparities.
Clean energy and energy efficiency jobs can provide attractive opportunities for those without a bachelor's degree. According to a recent Brookings analysis, more than 80 percent of the 5.7 million workers in the clean energy production and energy efficiency sectors do not have a four-year degree. Despite this, average wages are higher in these sectors than they are for workers with similar education levels in other sectors.
However, the same Brookings analysis indicated that women and Black workers are under-represented in clean energy and energy efficiency jobs. The barriers these workers face exacerbate the existing gap in how much they are paid relative to White men. Expanding access to clean energy jobs and training programs to more women and Black workers could help address these inequities.
Workforce policies can also ease the transitions of workers displaced from the fossil fuel sector.
Many workers in fossil fuel production have skills that are transferable to clean energy production, such as knowledge of how to use heavy machinery safely. However, clean energy jobs sometimes require additional training, such as how to mount and wire solar panels. Policies that ease this transition can help clean energy production companies take advantage of the existing skills of workers in declining fossil fuel sectors and address their concerns about how climate policies might negatively affect their employment prospects.
Registered apprenticeships offer a promising way to train workers for clean energy jobs, but are unlikely to fully address the needs of the new workforce.
Apprenticeships combine paid, on-the-job training with classroom instruction, providing an attractive way for workers to bolster their skills while working. Over the past decade, the U.S. Department of Labor (DOL) provided considerable funding to state workforce agencies and intermediaries to develop apprenticeships. Between 2015 and 2021 alone, DOL provided close to $1 billion in grants for apprenticeships. In turn, many states have increased the subsidies they offer for apprenticeships; more states now fund classroom technical instruction, offer tax credits, or provide other incentives to businesses to hire apprentices. These efforts have contributed to a 90 percent increase in the number of new apprentices between 2008 and 2019. Although the number of new apprentices dipped last year due in large part to the pandemic, the number of new apprentices in 2020 was still the third highest in the past 13 years.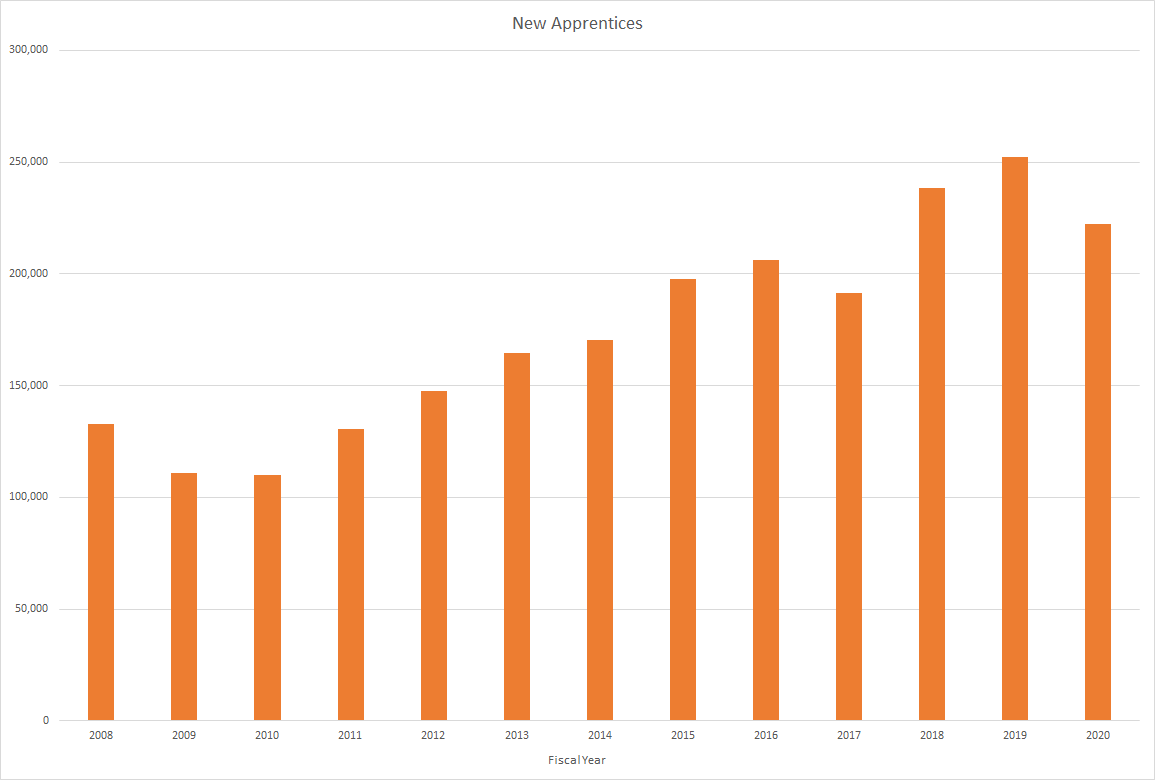 Despite the elevated participation levels of recent years, funding for apprenticeships is still only a small part of DOL's overall investment in the federally funded workforce system, which totals $10-$11 billion per year. In addition, it would be difficult to expand the number of apprenticeships quickly enough to prepare workers for most of the new clean energy jobs. Even in the construction sector, which is the industry with the largest share of available apprenticeships, apprentices only account for a small fraction of the workers entering the industry. About 5 million workers were hired in the construction industry in 2020, but there were less than half a million apprentices and only about 140,000 new apprentices that year; additionally, just 50,000 workers completed their apprenticeships. Across all industries, the Urban Institute estimates that apprenticeship accounts for less than 1 percent of the jobs secured by workers in the U.S.
Many employers remain reluctant to participate in apprenticeship programs for various reasons, including the costs of participating—which include the time registering the apprenticeship as well as the on-the-job training and related technical instruction. Further, some employers fear that other employers will poach workers after they have been trained. While there have been some recent efforts to streamline the development of standards to make it easier to develop new programs, states still find that the process is daunting to many employers.
Finally, although there have been some promising efforts to increase diversity among apprentices, especially Hispanics and women, it is difficult to determine the overall national trend because of incomplete data on the gender and race or ethnicity of apprentices, especially in states that administer their own apprenticeship programs. State apprenticeship programs should be required to report more complete data on the gender and race or ethnicity of apprentices.
Policymakers should expand the pathways to clean energy jobs and make them accessible to diverse communities.
Given the current number and impending growth of clean energy jobs, policymakers will need a multi-pronged approach that expands the ways people can prepare for and enter clean energy careers. These should not only include apprenticeship programs but other kinds of training programs linked to employers. Government agencies making investments in clean energy can help training programs connect with employers and obtain information about the skills needed to succeed in clean energy careers. In addition, the agencies making clean energy investments should partner with community-based organizations serving underrepresented groups and those displaced from the fossil fuel sector; Europe's "just transition" workforce policies could be a template for equitable employment and training opportunities in the U.S. Finally, federal and state agencies should conduct research that examines which employment and training strategies are associated with positive outcomes for underrepresented workers. This information will be crucial in making sure future policies are effective at helping workers and reducing disparities.