Designing Agricultural Development Projects to Empower Women: A Conversation with Agnes Quisumbing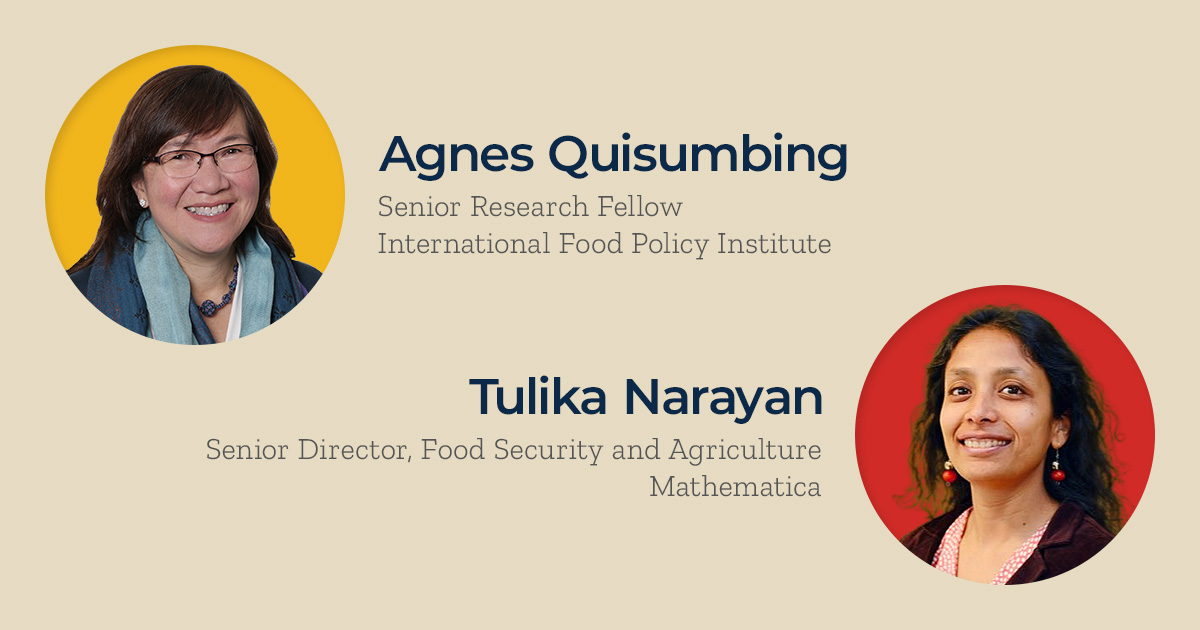 Women play an important role in nutrition-sensitive agricultural projects, and we need to learn more about the impact these projects have on improving women's empowerment and gender equality. To this end, Mathematica is drawing from the project-level Women's Empowerment in Agriculture Index (pro-WEAI) in evaluations of agricultural programs in India, Niger, Nigeria, Morocco, and Malawi, to better understand and measure women's empowerment.
Agnes Quisumbing, a senior research fellow at the International Food Policy Research Institute (IFPRI), is the co-developer of the WEAI and the pro-WEAI. Tulika Narayan, the director of food security and agriculture in Mathematica's International Unit, lead a conversation with Quisumbing, who presented findings from a recent study of the Agriculture, Nutrition, and Gender Linkages (ANGeL) pilot project in Bangladesh. This project aims to identify actions and investments in agriculture that can leverage agricultural development for improved nutrition and to make recommendations on how to invigorate pathways to women's empowerment. The study found that ANGeL increased both women's and men's empowerment, raised the prevalence of households achieving gender parity, and led to small improvements in the gender attitudes of women and men.
Following the presentation, Narayan facilitated a discussion about ANGeL pilot findings and other applications of pro-WEAI.
About the presenter
Agnes Quisumbing is a senior research fellow at IFPRI, where she leads cross-cutting research on gender. She received her Ph.D. and M.A. in economics from the University of the Philippines, Quezon City. Quisumbing was a Fulbright-Hays fellow at the Massachusetts Institute of Technology, a visiting fellow at the Yale Economic Growth Center, and an economist at the World Bank. She has published widely on gender, intrahousehold allocation, women's empowerment, property rights, poverty, and economic mobility, and has done field work in Bangladesh, Ethiopia, Ghana, Indonesia, and the Philippines. She is undertaking impact evaluations of nutrition-sensitive agricultural development programs in South Asia and sub-Saharan Africa, focusing on their impacts on women's empowerment and gender asset inequality. She is co-developer of WEAI and pro-WEAI and is co-editor of Gender in Agriculture and Food Security: Closing the Knowledge Gap. She is currently co-developing women's empowerment metrics for national statistical systems.
About the discussant
Tulika Narayan is an agriculture and development economist with more than 15 years of experience leading international evaluation and research projects. She leads the food security and agriculture practice at Mathematica. Narayan conducts economic analyses to support agricultural development, climate change, low-emissions development, and environmental policy, as well as evaluations of international development projects. She has a Ph.D. in agriculture and natural resource economics from the University of Maryland, College Park. She is evaluating several agricultural development programs in India and sub-Saharan Africa, implementing pro-WEAI to understand their impact on women's empowerment.