Where students attend college can play an important role in their future educational and career success. Yet more than 40 percent of students nationally never enroll in college or choose a school that isn't the best they could attend. That number increases to 50 percent for students from lower-income households. A new report suggests that a program called Find the Fit, which combines personalized planning materials and text messaging for students, and training webinars for advisors, increased the number and selectivity of colleges to which students apply.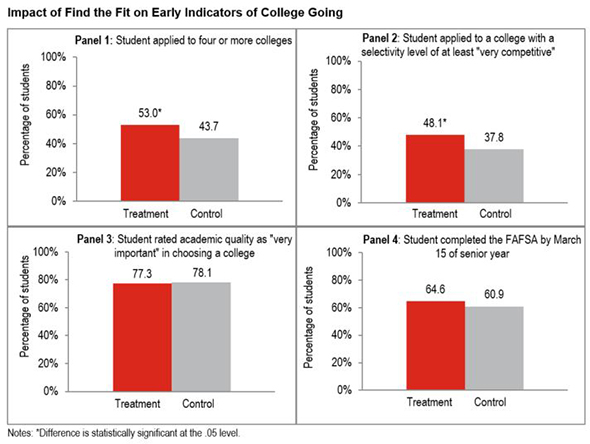 The report, the first from a six-year study, determined that Find the Fit led to some changes in the advising within Upward Bound and in students' actions and attitudes related to enrolling in a more selective college. Key findings show that the Find the Fit did the following:
Increased the share of students who applied to four or more colleges

Led students to apply to more-selective colleges

Had no impact on the importance students placed on academic quality in choosing a college

Did not affect the share of students completing the Free Application for Federal Student Aid early
Find the Fit bundles low-cost, research-based strategies to address some challenges students from low-income families face in applying to and choosing a college. Find the Fit helps students understand college application steps and financial aid and clarifies their aspirations and expectations related to their choice of college. During the study, Find the Fit was made available to Upward Bound projects to be integrated into the college advising they already offered.
"This early look at Find the Fit shows some encouraging signs of changing students' behavior in applying to colleges," notes Senior Researcher Alina Martinez, lead author of the report. "Future reports will look at students' college enrollment choices."
The next report from the study will examine whether and where students attend college as well as the selectivity of the colleges they attend.
Read Study of Enhanced College Advising in Upward Bound: Impacts on Steps Toward College by Alina Martinez, Tamara Linkow, Hannah Miller, and Amanda Parsad.
"Study of Enhanced College Advising in Upward Bound: Impacts on Steps Toward College." Full Report | Appendices | Study Snapshot | Study Highlights
Read more about our work to promote college and career readiness.