Help Send Mathematica Staff and Our Community Partners to SXSW EDU
We're vying for an opportunity to share insights from cutting-edge projects related to equity, early learning, the science of learning, and K–12 education.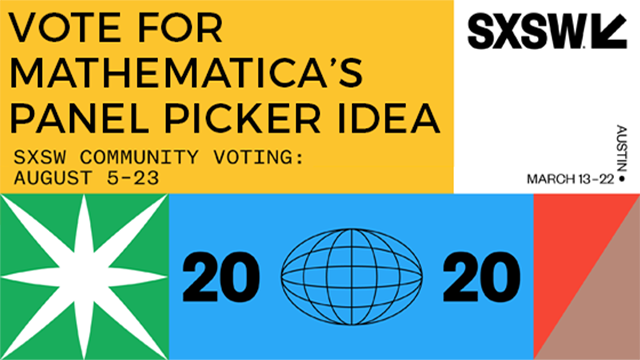 Each year, some of the most creative, mission-driven people in U.S. education gather for the South by Southwest Education Conference & Festival (SXSW EDU) in Austin, Texas. For the 2020 conference, Mathematica staff and their local community partners are competing for an opportunity to engage with the nearly 13,000 attendees in the SXSW EDU community and share insights from cutting-edge projects related to equity, early learning, the science of learning, and K–12 education.
SXSW EDU takes community voting into account in its decisions about which presentation submissions to accept. The voting period is currently open and closes at 11:59 p.m. on Friday, August 23. To vote for Mathematica's submissions, create a free account on the SXSW EDU website and search for Mathematica. To encourage friends and colleagues to vote for the submissions, post about them on Twitter, using the @MathematicaNow handle and #SXSWEDU hashtag.
Please take a minute to vote for Mathematica's presentation submissions:
Interrupting the School-to-Prison Pipeline. A case study of Oakland Unite, a publicly funded collaborative network that helps youth who have been expelled, incarcerated, or are at high risk of becoming involved in violence.
Presenters: Naihobe Gonzalez (researcher at Mathematica), Peter Kim (interim director at the city of Oakland Department of Violence Prevention), and Johanna Lacoe (research director at the California Policy Lab, University of California, Berkeley)
Enhancing Quality: Informal Child Care in Detroit. A panel describing the efforts of researchers and community partners to enhance the quality of informal child care in southwest Detroit.
Presenters: Megan Angus (researcher at Mathematica), Erika Villarreal Bunce (director of programs at Living Arts), Nazihah Siddiqui (research analyst at Mathematica), and Daisy Gonzalez (survey analyst at Mathematica)
Culturally Responsive Practices to Advance Equity. A workshop using human-centered design principles to help participants diagnose the challenges they face in achieving their equity goals while identifying steps they can take to accelerate their efforts.
Presenter: Steven Malick (research analyst at Mathematica)
Navigating Research Uncertainty with UI/UX Design. A workshop exploring the challenge of designing online education tools that can help nontechnical audiences collect and use evaluation data to inform their decision making.
Presenters: Mikia Manley (senior analyst at Mathematica) and Lauren Amos (senior researcher and learning scientist at Mathematica)
A Simple Framework for Decision Making Using Data. A talk about moving toward a new framework for reporting research findings that tells education leaders and practitioners how likely it is that the intervention or technology they're considering generates effects large enough to be worth the cost.
Presenters: John Deke (senior researcher at Mathematica) and Ignacio Martinez (researcher at Mathematica)
The annual SXSW EDU conference brings together educators, technologists, entrepreneurs, philanthropists, and government officials who are, in the words of the conference, "optimistic, forward-thinking, and purpose-driven" and want to improve teaching and learning. Last year, community voting helped send Mathematica's Mikia Manley to the conference, where she co-led a workshop on using data visualization in education.