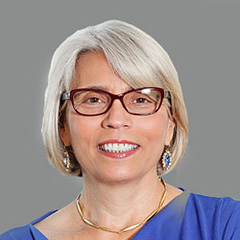 Mathematica is pleased to announce that Jane Scaccetti, CEO of the accounting firm Drucker & Scaccetti, has been named Chair of its board of directors. Scaccetti's expertise includes 40 years of experience as a Certified Public Accountant and business leader, as well as a history of service to both non-profit and for-profit boards. Scaccetti has been a member of the Mathematica board since 2008. She follows Larry Massanari, who served as Chair of Mathematica's board since 2010.
Committed to bringing diverse perspectives to corporate governance, Scaccetti is a member of the Women's Nonprofit Leadership Initiative, a group of more than a dozen Philadelphia-area leaders working to increase equity and inclusion in the nonprofit sector. Jane also serves on the board of the prestigious Philadelphia Foundation, and is a member of the Center City District Foundation. and Scaccetti's dedication to civic engagement has been recognized by organizations including Temple University's Fox School of Business, the Cystic Fibrosis Foundation, the Philadelphia Business Journal, and the Girl Scouts of Eastern Pennsylvania.
"It is a privilege and an honor to have been appointed Chair of the Mathematica board," said Scaccetti, "and I look forward to helping Mathematica continue advancing its mission of improving public well-being by bringing the highest-quality data, evidence, and analysis to bear on some of the toughest challenges of our time."
Scaccetti, who received a bachelor's degree in accounting from Temple University and a master's degree in taxation from Villanova University, has served as a Trustee of Temple University, chairing both the Temple University Health System board (2008-2013) and its Finance and Investment Committee (until 2018). She is currently a trustee of Salus University, where she chairs the Health Services Committee.