The American Rescue Plan (ARP) Act, signed by President Biden in March, sought to change the course of the pandemic while providing relief to workers and families negatively affected by COVID-19's economic fallout. A new tool from Results for America and Mathematica—the ARP Data and Evidence Dashboard—highlights how local governments are investing their ARP funds, including how they are using evidence and data, tracking outcomes, engaging with the public, and ensuring an equitable recovery for their residents.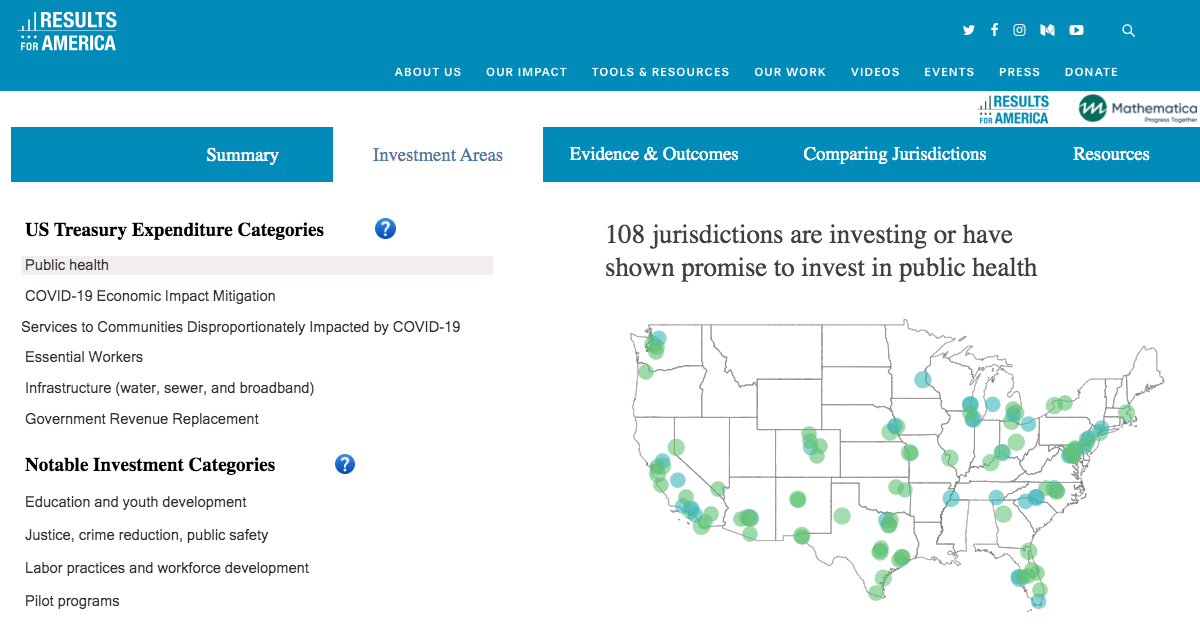 The dashboard is based on an analysis of Recovery Plan Performance Reports from 150 cities, counties, and tribal nations across the country. It provides an early glimpse of these jurisdictions' funding priorities as well as how policymakers are implementing five key data, evidence, and outcomes provisions, articulated in guidance from the U.S. Treasury Department, to maximize the impact of their ARP investments.
The American Rescue Plan provides $350 billion in State and Local Fiscal Recovery Funds to states, territories, cities, counties, and tribal governments to make critical investments in people and infrastructure. Counties will receive up to $65.1 billion and cities with populations over 250,000 will receive $45.6 billion.
"The dashboard spotlights how innovative local leaders are seizing this historic opportunity and using evidence and data to accelerate economic mobility and racial equity," said Michele Jolin, CEO and co-founder of Results for America. "We hope this tool will help policymakers at every level of government increase the impact of these once-in-a-generation investments."
"The dashboard provides a novel and systematic look at how a wide range of local governments are allocating ARP funds so they can compare and connect with other localities," said Candace Miller, a principal researcher at Mathematica. "We wanted to give busy administrators and their partners a tool that inspires them to implement evidence-based interventions that fundamentally improve the lives of their residents."
Funding Priorities
As local governments began allocating the first tranche of their federal recovery funds, the dashboard tracked early trends in how cities and counties are committing these resources:
COVID-19 response: 75 percent are investing or plan to invest in addressing the negative economic impacts of COVID-19.
Economic recovery: 69 percent are investing or plan to invest in expanding services to disproportionately impacted communities.
Revenue replacement: 61 percent are using or plan to use recovery funds to replace lost revenues.
Workforce: 43 percent have made or plan to make investments in workforce programs to help workers and the local economy recover.
Housing: 56 percent have made or plan to make investments in stable housing, housing services, or new housing development.
Infrastructure: 56 percent have made or plan to make investments in infrastructure, such as broadband, sewer, and water infrastructure.
Public health: 72 percent have made or plan to make investments in public health, including combating COVID-19 through vaccine outreach and distribution.
Innovation: 38 percent are investing or plan to invest in new, innovative programs.
Education: 34 percent are investing or plan to invest in education and youth development.
Criminal justice: 31 percent are investing or plan to invest in justice, crime reduction and public safety.
Other investments: 13 percent are investing or plan to invest in guaranteed basic income; 19 percent are investing or plan to invest in emergency rental assistance; and 24 percent are investing or plan to invest in premium pay for essential workers.
Evidence, Data, Public Engagement, and Equity
The dashboard assesses the strength of each jurisdiction's Performance Report based on its adherence to five key data, evidence, and outcomes provisions in the Treasury Department guidance for how governments should invest these dollars to advance economic recovery, economic mobility, and racial equity. The five provisions are: (1) building and using data and evidence to help deliver services, (2) prioritizing evidence-based interventions, (3) assessing investments through rigorous evaluations, (4) engaging the community and incorporating feedback to help determine funding priorities, and (5) promoting equitable outcomes across underserved or marginalized groups. Reports were reviewed and were given a composite score based on those metrics. The data showed that:
Building data and evidence: 31 percent demonstrate clear or promising investments in building data and evidence capacity.
Evaluation: 45 percent demonstrate clear or promising investments in evaluation for those programs without a strong evidence base.
Evidence-based interventions: 55 percent demonstrate clear or promising investments in evidence-based interventions.
Public engagement: 77 percent demonstrate clear or promising investments in engaging all residents to help shape their spending plans.
Advancing equity: 77 percent demonstrate clear or promising investments in plans to ensure equitable outcomes.
Innovative Approaches from Cities and Counties
With the next tranche of ARP funding coming to state, local, and tribal governments in the spring, the data in the Performance Reports can help policymakers better plan their next ARP investments by learning from innovative practices in communities across the country. Here are just a few:
Washington, DC, has a process in place for using evidence-based budgeting that it applied to the use of ARP funds. Mayor Bowser's proposed budget, which includes ARP investments, was reviewed for evidence and was scored by "The Lab"—the Mayor's scientific team—prior to submission to the DC Council. The District is also investing in a new Launch, Evaluation, and Monitoring (LEM) hub, a capacity-building initiative that will provide enhanced support to investments, which they hope will have a transformative impact on DC residents. The LEM will include a team dedicated to the rigorous performance management and evaluation of select programs, including some ARP-funded projects, to help inform decisions about which investments have the highest positive impact on residents and should be continued beyond fiscal year 2024.
Madison, Wisconsin, is developing plans to implement new, evidence-based programs that include evaluations to determine the efficacy of the interventions. For example, it is launching a pilot mental health emergency program called Community Alternative Response for Emergency Services (CARES). Madison plans to fund an external evaluator to design a study and independently assess the program.
Cook County, Illinois, has taken several approaches to meaningfully engage residents to determine ARP funding priorities. The county partnered with community-based organizations from marginalized communities, and it hosted meetings, administered surveys, and created a process for ongoing engagement. Additionally, it developed a website to educate the public and trusted messengers about ARP, and secured professional assistance to ensure robust engagement in the planning and implementation of ARP.
Innovative Workforce Investments
Workforce is emerging as a top investment area—43 percent of jurisdictions have reported clear or promising investments in workforce, including programs to help people get back to work, upskill, and access higher-quality jobs. Here are a few examples:
Detroit, MI: The City of Detroit will employ workers through the Skills for Life program. Workers will spend three days working on projects that are important to the city, and two days a week attending education or training to earn a credential that leads to a career. To support workers, the program will also help with transportation, the development of a child care plan, career coaching, and other supports to increase the long-term success of participants.
Los Angeles, CA: The Angeleno Corps program will engage 400 young Angelenos (ages 18–24) in a paid year of service and learning, providing a monthly stipend of $1,000. The program will intentionally recruit corps members from neighborhoods most impacted by COVID-19, racial oppression, and educational inequities. Corps members commit to performing at least 400 hours of service and to sustaining academic goals by either remaining or re-engaging in community college or other vocational training programs.
Boston, MA: The child care sector, which was already low-paying before the pandemic, has a severe workforce shortage. To incentivize hiring, the City of Boston will provide direct grants to child care businesses that have hired new child care staff (or rehired previously laid-off staff) since July 1, 2021. Part of the grant will be for the hiring organization and part of the grant will be for bonuses for the employees. The intended outcomes of this program are to draw qualified caregivers back into the child care workforce with better pay, help child care workers remain in the field with augmented pay, and help child care businesses retain their workers with annual bonuses.
Note: The information in the dashboard will be updated as more information on local, state, and tribal ARP investments is released publicly. To learn more about the dashboard, contact us.
Contact