Today, a new report released by Mathematica shows that Hidden Helpers—children who live with and help care for wounded, injured, or ill service members or veterans—face local and national barriers to speedy, high quality support for themselves. Hidden Helpers take on tremendous responsibilities compared with their peers, ranging from household chores to physical and emotional caregiving duties and childrearing responsibilities for siblings. They require significant support themselves to grow up healthy and thrive but their needs are often superseded by those of the people they care for.
The barriers faced by Hidden Helpers include inaccessible health care options, long wait times for care, and hostility from those whose job it is to provide support to the children. Critically, the report also found that military caregiving families fear the accompanying stigma that can affect the attitudes of their friends, family, and the community at large, spurring feelings of isolation for children and caregivers and diminishing the quality-of-care military caregiving families receive.
"This is a clarion call to support the families doing the day-in, day-out work of caregiving," says Cleo Jacobs Johnson, project lead and a senior manager at Mathematica. "We aim to activate federal agencies, community and nonprofit organizations, policymakers, researchers, and philanthropic organizations to build or enhance the local and national response to benefit these children and their families."
Findings were released as part of an event at the White House hosted by First Lady Dr. Jill Biden. The report identifies four high-level recommendations to develop more high quality supports for children in military caregiving families: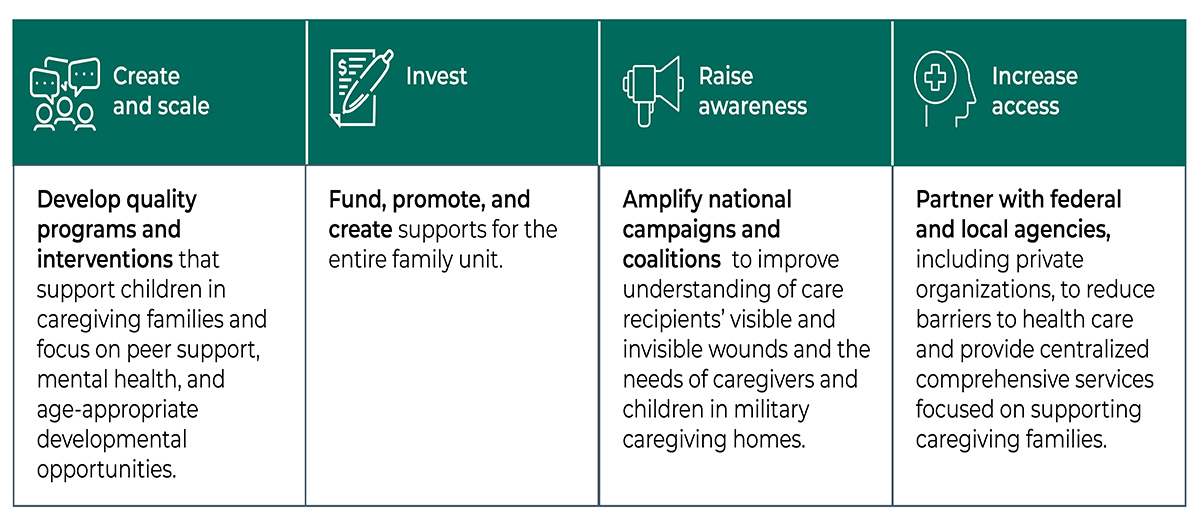 "What our military and veteran community asked for was a set of recommendations around which interventions will best support our nation's military kids and Hidden Helpers," states Rashi Romanoff, Vice President for Programs & Partnerships at the Elizabeth Dole Foundation. "I'm excited to report that we are responding in real time to transform the environment of assistance available for caregiving families."
For this publication, Mathematica conducted focus groups and interviews that allowed us to hear directly from children and caregivers as well as experts in the field. The report, developed for the Elizabeth Dole Foundation with the Wounded Warrior Project and Lily Endowment, expands on the Foundation's earlier research on informal caregivers to America's wounded, injured, or ill service members and veterans.
About Mathematica
Mathematica is an independent research and analytics firm whose work produces evidence to guide policy- and decision making worldwide. More than 1,500 of our experts work across the country and around the globe, partnering with federal agencies, state and local governments, foundations, businesses, universities, and professional associations to reimagine the way the world collects and uses data. Mathematica has experience exploring issues relevant to military service members, veterans, and their families through analyses of health care data from the U.S. Department of Defense.
About the Elizabeth Dole Foundation
The Elizabeth Dole Foundation is the preeminent organization empowering, supporting, and honoring our nation's 5.5 million military caregivers—the spouses, parents, family members, and friends who care for America's wounded, ill, or injured veterans. Founded by Senator Elizabeth Dole in 2012, the Foundation adopts a comprehensive approach in its advocacy, working with leaders in the public, private, nonprofit, and faith communities to recognize military caregivers' service and promote their well-being.