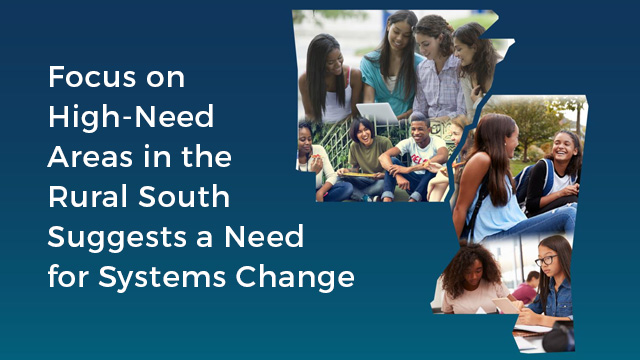 Despite a drop in teen pregnancy in the Rural South, rates remain Significantly higher than the national average. A new study supported by the Walton Family Foundation looks at two counties in the Arkansas and Mississippi Delta region and notes that multiple factors influence teen pregnancy in this geographic area and that a comprehensive, systematic approach is necessary to moderate this complex social challenge.
The research team identified factors underlying teen pregnancy in two adjacent counties—Phillips County, Arkansas, and Coahoma County, Mississippi—to inform key decisions and innovative solutions that advance social change. They found that rates tend to be higher in disadvantaged communities where more people live in poverty or are not able to complete college. They are also higher in communities in which a larger percentage of the population is age 17 or younger.
Social and economic barriers, as well as lack of access to quality health education and medical care, likely contribute to the high teen birth rates in this region. With high rates of poverty and unemployment, these communities offer few enrichment activities and opportunities for youth. These communities are also medically underserved, with too few primary care providers and high infant mortality.
Findings from the study indicate the following:
Parents can make a difference. Positive role modeling and mentoring from parents, parental discussions about sex and birth control, and having a mother who graduated from high school were associated with lower rates of teen birth. In contrast, young age at sexual initiation and lack of contraceptive use at first sex were associated with a higher likelihood of teen pregnancy.
The landscape is complex. Many contextual factors contribute to teen pregnancy, such as discrimination based on race and class, restrictive sexuality education policies, lack of activities and opportunity for youth, and noncompliance with confidentiality protocols among health care providers. Programs and policy can work to improve these factors.
Collaboration accelerates progress. Existing programs in Phillips and Coahoma Counties are working hard to improve teen pregnancy rates in their communities. However, these communities would benefit from a multipronged approach in family, school, clinical, community, and government settings to accelerate progress and address the systemic nature of factors influencing teen pregnancy.
"Leveraging key networks and changing current systems could greatly accelerate progress and close the gap between this region and the nation in rates of teen pregnancy," says the study's lead author, Katie Adamek.
The Walton Family Foundation has a long history of supporting the Delta. Its founders Sam and Helen Walton saw potential for the Delta region of Arkansas and Mississippi over years of visits and work in the area. Today, the foundation supports organizations that promote economic development, improve education and enhance quality of life.
Read more about Mathematica's work to create meaningful and measurable impact across local communities.
Full report: "Accelerating Teen Pregnancy Prevention in Phillips County, Arkansas and Coahoma County, Mississippi," by Katie Adamek, Sarah Bardin, So O'Neil, and Dara Lee Luca.
Note: The figure is adapted from Bronfenbrenner, U. "Toward an Experimental Ecology of Human Development." American Psychologist, vol. 32, no. 7, 1977, pp. 513–531. doi:10.1037/0003-066X.32.7.513