As COVID-19 case counts and deaths continue to rise in the United States and around the world, we're beginning to learn more about how it is impacting nations, businesses, and even our own neighborhoods. We're also beginning to see just how important strong public buy-in is to the success of life-saving public health interventions—such as social distancing—to contain the spread of the virus. The initial public health response has focused on collective action and impact, but it's no surprise that individuals are experiencing fear and stress about how the disease could affect them specifically.
Counteracting that fear and stress with the best available evidence was what drove me and my colleagues at Mathematica to create 19 and Me during a recent hackathon.
Our team of data scientists, software developers, and epidemiologists wanted to empower people to make sense of the vast amount of information and to make evidence-based decisions. We set out to give individuals a rough estimate of their risk—or, more precisely, the risk of people with similar characteristics as them—of contracting COVID-19. We also wanted to visualize how behaviors, such as practicing social distancing, handwashing, and wearing personal protective equipment, can change people's risk level.
Many important aspects of this disease remain unknown or uncertain, and the app might not account for some information specific to you, your health status, and your behaviors that would be necessary to most accurately quantify your individual risk score. But our guiding philosophy is that an imperfect estimate, based on the best scientific evidence currently available, is better than no estimate. We believe people make better decisions when empowered neither with fear nor complacency, but with accurate data.
View Terms and Conditions
Terms of Use
These Terms of Use (the "Terms") govern your access to and use of the COVID-19 Risk Score Calculator tool (the "Tool"). By using the Tool, you agree to these Terms. If you do not agree to them, do not participate in the use of the Tool.
Limited Use
Mathematica Inc. ("Mathematica" or "we") has developed this Tool which provides you with an estimation of your personal susceptibility or risk of contracting COVID 19 based on the information you input into the Tool. You may use the Tool for personal and informational purposes. Any other use of the tool is governed by the MIT License
The Tool does not provide medical advice and cannot be used by you to diagnose or treat any medical condition.
We do not retain any information that you provide in connection with your use of the Tool.
Disclaimer of Warranties
USE OF THE TOOL IS ON AN "AS IS" BASIS AT YOUR OWN RISK. MATHEMATICA DOES NOT WARRANT OR MAKE ANY REPRESENTATIONS REGARDING THE USE OR THE RESULTS OF THE TOOL, ITS ACCURACY, SECURITY, FUNCTIONALITY, AVAILABILITY, OR THAT IT WILL OPERATE WITHOUT INTERRUPTION OR BE ERROR-FREE. MATHEMATICA HEREBY DISCLAIMS ALL WARRANTIES, WHETHER EXPRESS, IMPLIED, STATUTORY, OR OTHERWISE, INCLUDING ALL IMPLIED WARRANTIES OF MERCHANTABILITY, FITNESS FOR A PARTICULAR PURPOSE, TITLE, AND NON-INFRINGEMENT.
Limitation of Liability
TO THE FULLEST EXTENT ALLOWED BY APPLICATBLE LAW, IN NO EVENT SHALL MATHEMATICA BE LIABLE FOR ANY DIRECT, INDIRECT, INCIDENTAL, SPECIAL, EXEMPLARY, OR CONSEQUENTIAL DAMAGES (INCLUDING, BUT NOT LIMITED TO: LOSS OF USE OR PROFITS) HOWEVER CAUSED AND ON ANY THEORY OF LIABILITY, WHETHER IN CONTRACT, STRICT LIABILITY, OR TORT (INCLUDING NEGLIGENCE OR OTHERWISE) ARISING IN ANY WAY OUT OF THE USE OF THE TOOL, EVEN IF ADVISED OF THE POSSIBILITY OF SUCH DAMAGE. IN NO EVENT WILL MATHEMATICA'S AGGREGATE LIABILITY FOR ANY AND ALL CLAIMS RELATING TO THE TOOL EXCEED ONE HUNDRED U.S. DOLLARS (U.S. $100.00).
Termination
We may suspend or discontinue offering the Tool at any time. You are free to stop using the Tool at any time. We may also terminate your use of the Tool for any reason, in our discretion. After any such termination, these Terms will continue to apply with respect to any prior use of the Tool.
Trademarks
The Mathematica name and logo and all related names, logos, product and service names, designs, and slogans are trademarks of Mathematica. You must not use such marks without Mathematica's prior written permission.
Changes to Terms and Notification
We may revise these Terms from time to time, at our sole discretion, effective immediately. We may notify you of changes by posting an updated version of the Terms where we posted previous versions. By continuing to access or use the Tool after revisions become effective, you agree to be bound by the revised Terms. If you do not agree to the new terms, you must stop using the Tool.
Governing Law and Jurisdiction
These Terms and any claim or dispute arising out of or relating to the Tool or these Terms ("Dispute") will be governed by the laws of the State of New Jersey, without respect to its conflict of laws principles. The exclusive place of jurisdiction for all Disputes is Mercer County, New Jersey, or the United States District Court for the District of New Jersey.
Arbitration
In the event of any Dispute, you agree to first contact Mathematica and try to resolve the Dispute with us informally. If we haven't been able to resolve the dispute with you informally, we each agree to resolve any Dispute binding arbitration or, with respect to Disputes that qualify for U.S. small claims court, in U.S. small claims court.
The Federal Arbitration Act and federal arbitration law apply to these Terms. There is no judge or jury in arbitration and court review of an arbitration award is limited. It is important that you understand that the arbitrator's decision will be binding and may be entered as a judgment in any court of competent jurisdiction.
To begin an arbitration proceeding, you must send a letter requesting arbitration and describing your claim to us at the address at the end of these Terms. The arbitration will be conducted by the American Arbitration Association ("AAA") under its rules, including the AAA's Supplementary Procedures for Consumer-Related Disputes. The AAA's rules are available at www.adr.org. Payment of all filing, administration and arbitrator fees will be governed by the AAA's rules. We will reimburse those fees for claims totaling less than $10,000 unless the arbitrator determines the claims are frivolous. Likewise, we will not seek attorneys' fees and costs in arbitration unless the arbitrator determines the claims are frivolous. You may choose to have the arbitration conducted by telephone, based on written submissions, or in person in the county where you live or at another mutually agreed location. Nothing in this Section shall prevent either party from seeking injunctive or other equitable relief from the courts, including for matters related to intellectual property or violations of these Terms.
ALL CLAIMS MUST BE BROUGHT IN THE PARTIES' INDIVIDUAL CAPACITY, AND NOT AS A PLAINTIFF OR CLASS MEMBER IN ANY PURPORTED CLASS OR OTHER REPRESENTATIVE PROCEEDING AND, UNLESS WE AGREE OTHERWISE, THE ARBITRATOR MAY NOT CONSOLIDATE MORE THAN ONE PERSON'S CLAIMS. YOU AGREE THAT, BY ENTERING INTO THESE TERMS, YOU AND WE ARE EACH WAIVING THE RIGHT TO A TRIAL BY JURY OR TO PARTICIPATE IN A CLASS ACTION. NOTHING IN THESE TERMS SHALL AFFECT ANY STATUTORY RIGHTS THAT APPLY TO YOU IF AND TO THE EXTENT THAT SUCH RIGHTS CANNOT EFFECTIVELY BE WAIVED OR THAT A WAIVER WOULD VIOLATE MANDATORY APPLICABLE LAW. To the extent any Dispute isn't arbitrable under applicable laws or otherwise, such Dispute shall be resolved in accordance with the other sections of these Terms.
Miscellaneous
The failure of either you or Mathematica to exercise in any way, any right in these Terms shall not be deemed a waiver of any further rights hereunder. If any provision in these Terms is illegal or unenforceable, the provision will be limited or eliminated to the minimum extent necessary and all other provisions of this Agreement will continue in full force and effect. These Terms constitute the entire agreement between you and Mathematica concerning the Tool and supersede any additional or prior agreements.
Contact Information
Questions regarding these Terms should be directed to Mathematica legal@mathematica-mpr.com or by contacting us at:
Mathematica Inc.
Attn: Legal Dept
P.O. Box 2393
Princeton, NJ 08543-2393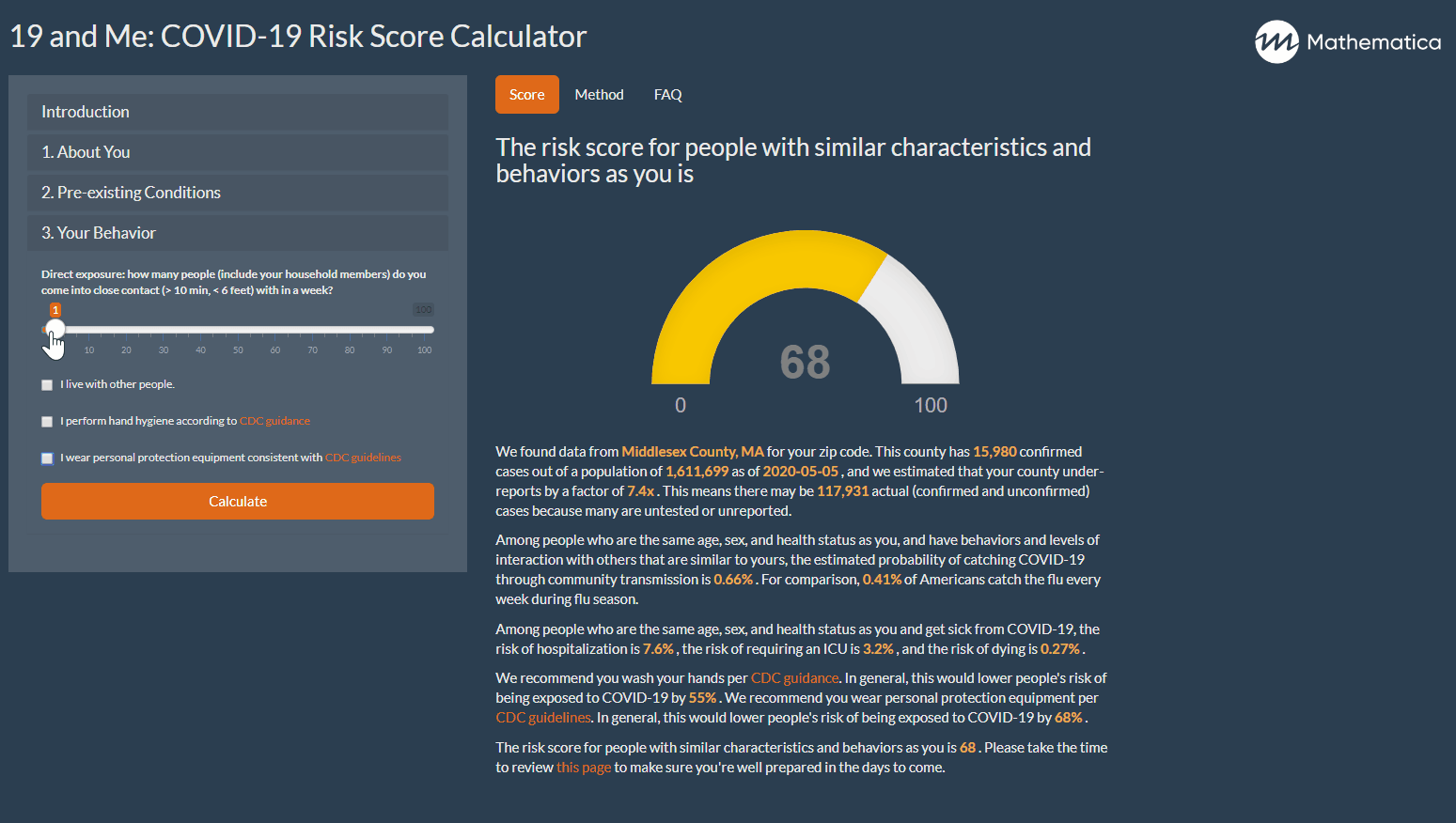 19 and Me combines information about users with available case data and epidemiological research to empower them to make data-driven decisions that matter for their health and safety. The app is divided into three sections:
About you. This section collects user input about geographic location, age, and biological sex. Because privacy is such a concern, these data are only used to run the individualized analysis and aren't collected or stored. Interestingly, most of the public data on COVID-19 cases, such as the Johns Hopkins University Center for Systems Science and Engineering and the New York Times database, are available only at the county level. That might work well for researchers and news outlets, but most people are used to entering their ZIP code to see personalized results. So we built a ZIP-code-to-county crosswalk using a publicly available Application Programming Interface (API) from the U.S. Department of Housing and Urban Development. The app asks for age and biological sex because the risk of hospitalization and severe health outcomes from contracting COVID-19 also depends on these factors. We used the latest epidemiological evidence from the Chinese Center for Disease Control and Prevention (CDC), the U.S. CDC, and peer-reviewed articles to estimate how age and biological sex affect risk.
Preexisting conditions. The next step asks users if they already have flu-like symptoms and what kind of underlying medical complications they might have. For people with flu-like symptoms and for those without them, our algorithm has different methods to calculate the probability of someone having COVID-19. The underlying medical complications are important because they also determine the risks of developing a severe case of COVID-19, being hospitalized, and dying. Similarly, we estimated risk using the latest epidemiological evidence from the Chinese CDC, U.S. CDC, and peer-reviewed articles.
Your behavior. Although many risk factors for COVID-19, such as place of residence, age, biological sex, and underlying medical conditions, cannot be easily modified, there are things we all can do to mitigate our own risks. In this section of the app, users can estimate the number of people they and their household members come into close contact with on a weekly basis. This input will feed into the calculation of the probability of contracting COVID-19. The U.S. CDC has recommended additional risk mitigation measures, such as hand washing and wearing personal protective equipment. Users can select checkboxes for these behaviors in the app to see how adopting these behaviors can reduce risk.
We wanted to design the risk score like a credit score, a semi-quantitative metric that can be used to inform actions. Although we cannot provide individuals with a precise sense of their risk, we can indicate the general risk level for people living in the same community who are the same age, sex, and health status, and have similar behaviors. We centered the score around 50. If the risk score is between 1 and 30, users get a message saying the level of risk for people with similar characteristics and behavior is currently low but encouraging them to review the CDC planning guidance to make sure they are prepared. If the risk score is between 30 and 70, users are directed to the CDC resources on how to protect themselves and others from COVID-19. If the risk score is above 70, the message lets them know the risk score is serious and encourages them to avoid exposure, practice good hygiene, and read additional CDC resources on disease prevention.
We did an alpha launch of the app on April 2. Now we're trying to spread the word and encourage more people to use it. Without effective treatment or a vaccine in sight, we are likely to be living with the virus for the near future. We hope 19 and Me can help people stay informed and levelheaded while we all navigate this long and winding road together. We have already received great questions and a lot of feedback about user-friendliness, which we've summarized into an FAQ page in the app.
This pandemic is quickly evolving, and we want 19 and Me to do the same. If you have suggestions, know of data sets that could lead to improvements, or want to suggest additional features, please let us know or visit us on GitHub.