A Fireside Chat About Race, Gender, and Perseverance with Dr. LaVerne H. Council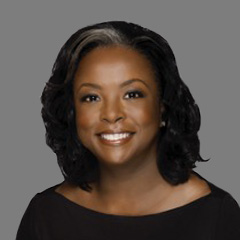 In celebration of Black History Month, Mathematica's Black Employee Resource Group is excited and honored to host Dr. LaVerne H. Council for a fireside chat on Friday, February 19. Dr. Council is a member of Mathematica's board of directors and a global technology leader. During the conversation, she will reflect on times when she felt called to persevere despite the challenges she faces as a Black woman. This discussion will offer Mathematica staff and our partners an intimate look into Dr. Council's journey.
Dr. Council began her career as an intrapreneur more than 30 years ago. She is recognized internationally as a transformational leader who focuses on people over products, and outcomes over activities. She is a global operations and information technology strategist, and a change agent, and her experience as a global executive gives her a unique perspective as an influencer, advisor, and executive coach. She is a founder and the chief executive officer of Emerald One; serves on the boards of directors at ConMed, Concentrix, GenesisCare, Mathematica, March of Dimes, and GirlUp; and hosts the podcast Brilliant in 20.
Dr. Council's work as a global executive leader with organizations such as Grant Thornton, Johnson & Johnson, Dell, Inc., and Ernst & Young LLC give her special insight into the opportunities and challenges chief experience officers and their employees face. As the Assistant Secretary for the Office of Information and Technology and Chief Information Officer (CIO) at the U.S. Department of Veterans Affairs, Dr. Council created the technology investment and implementation strategy for the largest civilian agency in the federal government. She also transformed the executive leadership team into the most culturally diverse in the federal government.
Dr. Council focuses on organization health, team cohesion, and the strengths of individuals, combining professional growth with personal development. A volunteer since age 5, Dr. Council advises leaders and teams on servant leadership, spotlighting the unique gifts each person brings to a team and leaders' capacity to improve the lives of others.
Dr. Council has received numerous awards including, but not limited to, the Global CIO Executive Summit Top 10 Global Leaders and Change Agent Award; the Global CIO Executive Summit Top 10 Global Leaders and Innovators Award; the Meritorious Service Award—the highest honor for a civilian federal employee; and the Golden Gov: Federal Executive of Year Award. Health Data Management also recognized Dr. Council as one of the Most Powerful Women in Healthcare Information Technology, and FedScoop twice named her one of the Top 50 Women in Information Technology.