K-12 Services
Minimize the spread of COVID-19 while maximizing learning opportunities for all students.
Schools across the world are struggling to determine the right approach for bringing students back into classrooms. A growing body of evidence about viral transmission and risk reduction has opened the door to alternatives to closing down schools. Our COVID-19 K-12 services are backed by evidence to help states and districts ensure a safe transition back into the classroom or hybrid learning for students, faculty, and communities.
Overview
Use our dynamic dashboards to simulate the spread of COVID-19 in your school in real time.
Find the right balance of virtual and on-site learning.
Use our simulation tool to predict teacher shortages based on COVID-19 exposure.
Predict potential policy outcomes before implementation.
Predict outbreaks early with wastewater testing in your school district.
Your unique challenges
Our collaborative solutions
Discover the right balance of attendance for in-person and virtual learning based on age and classroom size.
Create a dynamic plan that rapidly adjusts to the changing environment using our real-time case modeling and forecasting dashboards.
State, local, and school administrators can leverage our dynamic dashboards to simulate the spread of COVID-19 in real time. The agent-based models Mathematica uses help educators make informed decisions about how to offer needed in-person educational opportunities, while mitigating the risk of infection spread. In a recent study, Mathematica used these agent-based models to run more than 400,000 scenarios of infection spread across more than 100 different school situations, simulating the interactions of groups to assess their effects on the system as a whole. The tool enables users to adjust by school level, school size, operating strategy, approach to quarantines and closures, and the local community's COVID-19 infection rate. The results offer educators and civic leaders a set of schools comparable to their own and provide insights based on evidence about the best approaches for individual communities and schools.
In addition, our models supply school districts with resources to address staffing changes, quarantining staff, and teacher shortages.
Learn more about our COVID Simulator.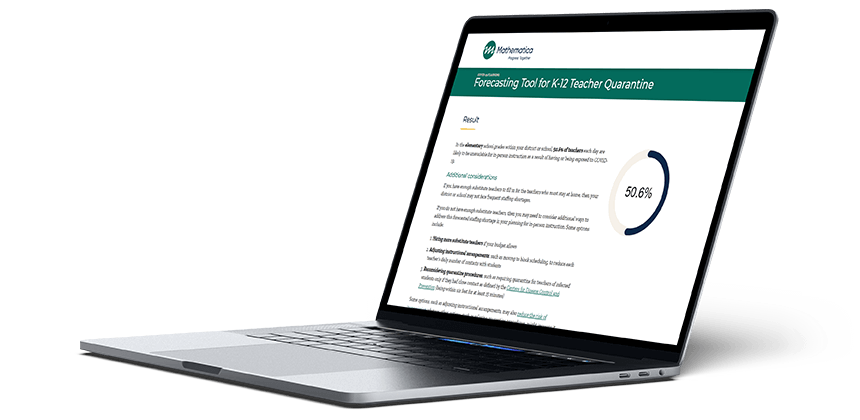 Predict and identify the presence of COVID-19 and quickly prevent its spread on campus, in counties, or in school districts.
Monitor wastewater for COVID-19 outbreak detection in your community to keep your districts safe.
We can help your school or community create a community-monitoring and detection safety net. Using our proven process for testing wastewater, you can detect the presence of COVID-19 in your school or county even before symptoms appear.
Applying the same methods we use for community-level testing of opioids at wastewater treatment plants, we can conduct targeted COVID-19 testing at the individual building level. Mathematica offers expertise to synthesize, contextualize, and interpret wastewater data alongside other public health data. In partnership with local labs, our wastewater data analysis enables communities to build testing strategies that support informed decisions for mitigating the virus's spread. Wastewater testing is inexpensive, yields quick results, and requires minimal lift from operations staff.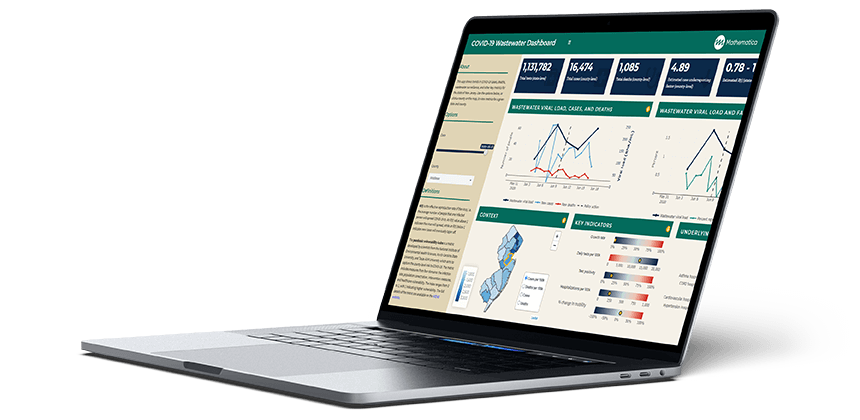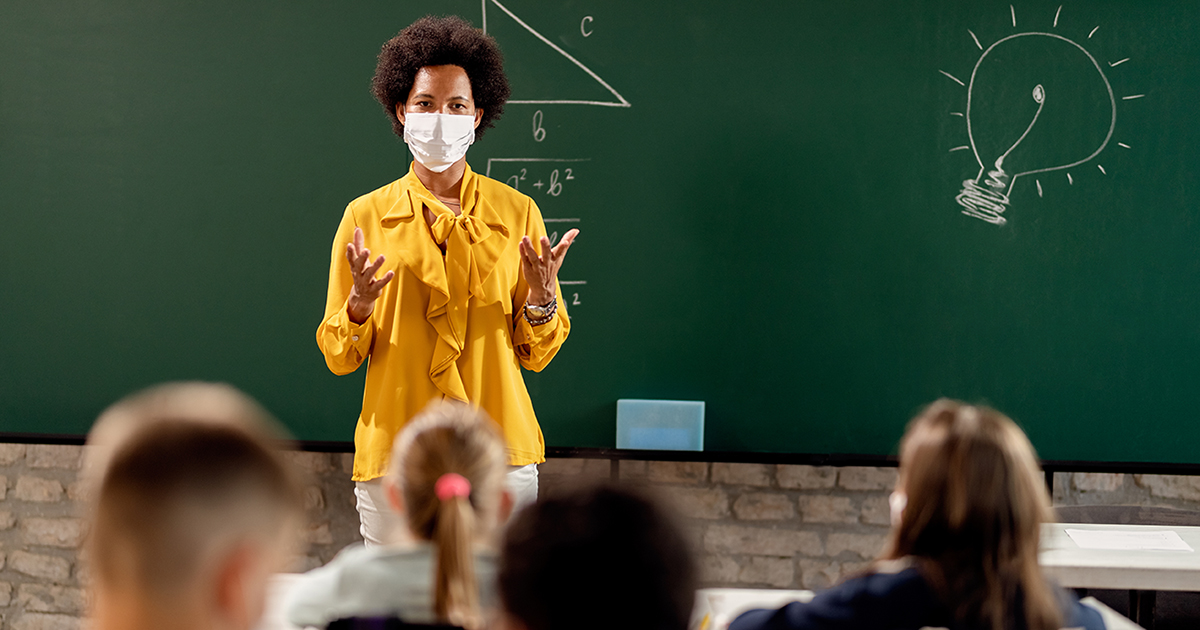 Featured Dashboard
Compare COVID-19 Testing Strategies in K-12 Schools
Schools across the country are making difficult decisions about how to implement COVID-19 testing. This impact estimator, designed by Mathematica and The Rockefeller Foundation, helps schools and public health agencies make these decisions.
Go to Dashboard
EVIDENCE & INSIGHTS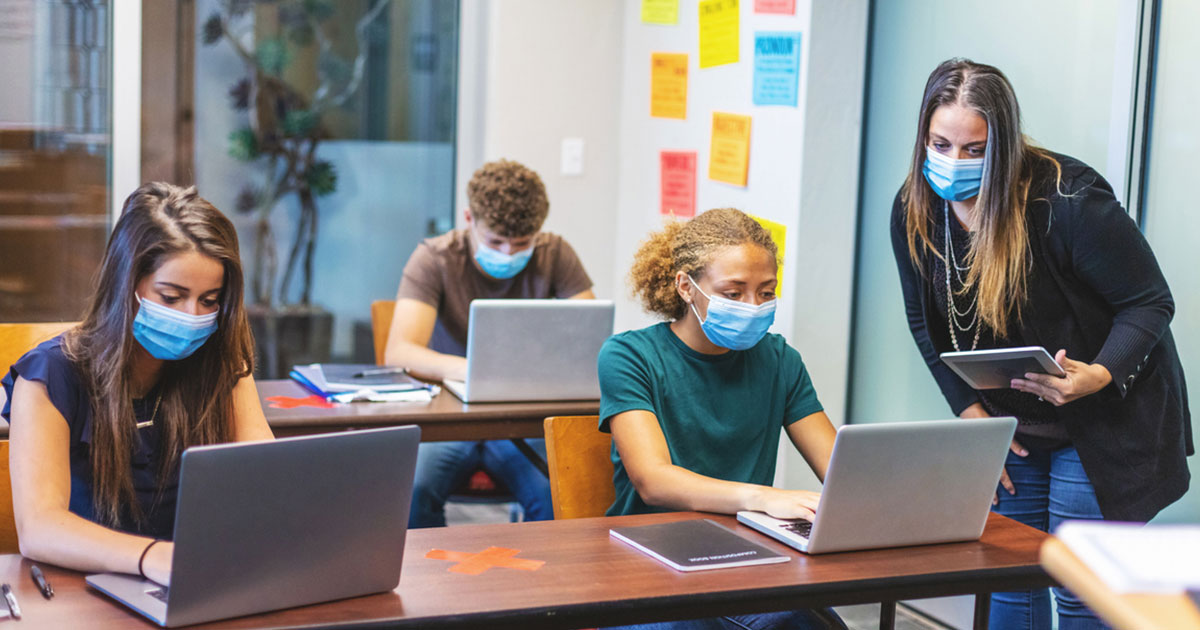 Blog Post
A New Staffing Tool to Help Schools Stay Open in the Pandemic
School districts seeking to reopen their schools for in-person instruction this spring could face daunting staffing challenges.
Learn more
Related Staff
COVID-19 Services
Guide recovery and build resilience.
Our data science, education, and public health experts guide your path to recovery with objective research, data modeling tools, contact tracing, and dashboards. Learn more about our services.
CONTACT US
So we can help serve you better, please complete the form below. We will respond as soon as possible, usually within a few business days.