Workforce Planning and Response
Our interactive dashboard and tracking tools empower employers to operate responsibly during a pandemic.
Operating a business or a health care facility during the COVID-19 pandemic means having the supplies you need to enable your employees to return to work safely, accurately monitoring the spread of the virus, and allocating resources where they are most needed.
Our workforce planning dashboard offers employers trusted, holistic information about employees' well-being. These powerful analytics are driven by digital tracking tools that provide descriptive summary statistics and interactive data that can be used to understand conditions at an organizational, departmental, or individual staff level.
Continue operations while keeping your staff as safe as possible.
Our data science and public health experts use data analytics and digital solutions to help you navigate and address the unique challenges your business faces during a pandemic.
Connect with an expert
Overview
Understand employee health and maintain a safe working environment with our customizable workforce readiness dashboard.
Track consumption of personal protective equipment (PPE), equipment inventory, and critical pharmaceuticals.
Identify and address gaps in equipment distribution.
Anticipate staffing shortages across departments.
Featured Partnership
Mathematica and OnPlacePlus join forces to create a workforce readiness dashboard.
Designed for the organization's senior leaders and staff, the data source for our workforce readiness dashboard is a staff-monitoring instrument that enables employees to understand and self-report COVID-19 symptoms.
Learn More
EVIDENCE & INSIGHTS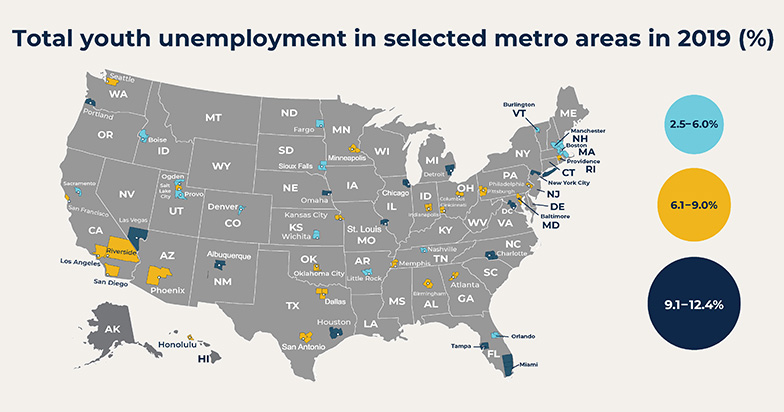 Publication
COVID-19 and Youth Unemployment in Selected Metro Areas, January 2019–June 2020
The COVID-19 pandemic triggered a stark rise in youth unemployment across the nation.
Learn more
Related Staff
Andrew Hurwitz
Senior Director, Commercial Healthcare and Life Sciences (HCLS)
View Bio Page
COVID-19 Services
Guide recovery and build resilience.
Our data science, education, and public health experts guide your path to recovery with objective research, data modeling tools, contact tracing, and dashboards. Learn more about our services.
CONTACT US
So we can help serve you better, please complete the form below. We will respond as soon as possible, usually within a few business days.