We live in a data-rich society that continuously quantifies our ways of living and knowing into data points. Our experiences and knowledge are captured through surveys, assessments, and keyboard clicks to help understand our behaviors. One way data can be used is in the pursuit of equity. Data can be used to help dismantle structural barriers based on race, ethnicity, gender, sexual orientation, zip code, class, disability, and other factors so an individual's background and identities no longer predict their outcomes in life. When data are used to make informed decisions, they become a powerful tool in unmasking and addressing existing disparities. For instance, government agencies, community organizations, foundations, and education systems routinely collect and use data to inform decisions about how best to promote equitable education and workforce outcomes, especially for marginalized and overlooked communities. And yet, when misused, data can also reinforce deficit narratives, biases, and other long-standing structural inequities.
Data can tell an incomplete story of lived experiences and outcomes
This was the case for some families of children attending schools within Atlanta Public Schools (APS) in Georgia, according to Atlanta Thrive, a non-profit organization created for parents by parents with children attending APS schools. This parent group is not your traditional PTA; it's a collective that seeks equity and accountability from decision makers in APS. Their mission is to educate and empower families to use their voices and knowledge to remove existing inequities in the school system. Faced with the problem of data not providing a comprehensive story, the organization started because families could not reconcile their children's exemplary grades with the difficulties the students had in achieving grade-level reading milestones and outcomes. In other words, there was another story not captured in the data.
The Data Equity Principles (DEPs), a result of Mirror Group's collective work with Mathematica and the Bill & Melinda Gates Foundation, offer a practical tool to identify data points and practices that lead to fuller stories. These principles center lived experiences and diverse voices in data collection, analysis, and dissemination. They are a companion to the Education-to-Workforce Framework, which leveraged insights from education and workforce experts nationwide and synthesizes the latest research and best practices for centering equity in education-to-workforce data. From this work emerged seven core principles for applying an equity lens in data projects.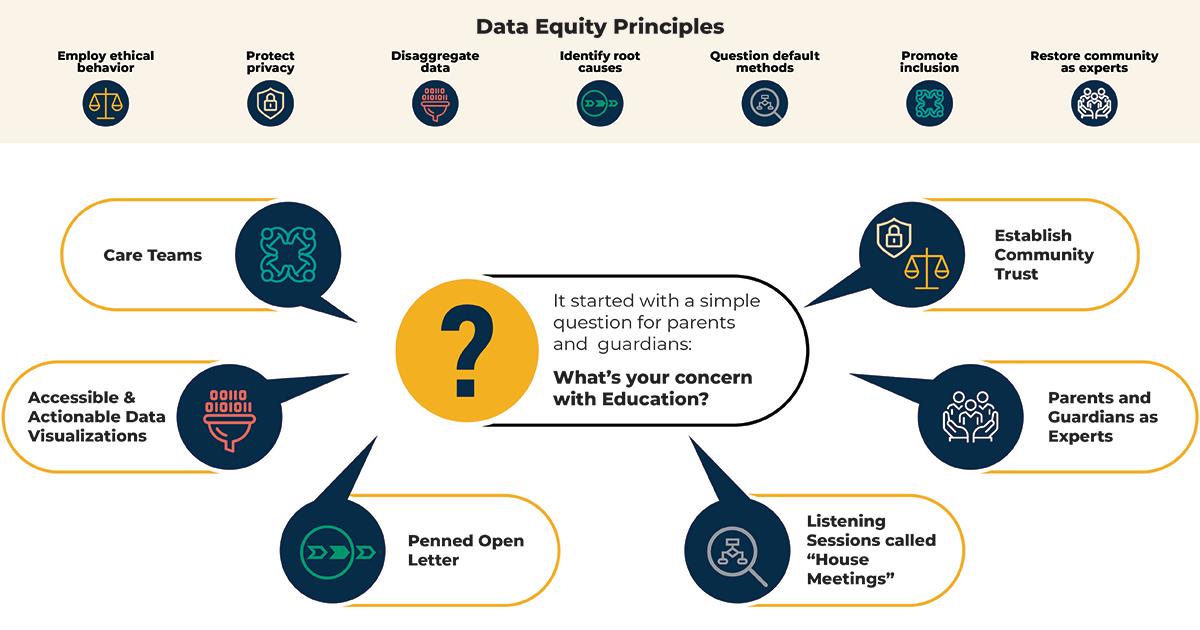 Atlanta Thrive: Data Equity Principles in Action
Atlanta Thrive is one of several collective impact organizations that supported the development of our work and offers an example of data equity in action. At the onset of the COVID-19 pandemic, the organization penned an open letter to the incoming superintendent. Aware of the existing socioeconomic and racial disparities in social conditions and resources that lead to inequality in outcomes, there was uncertainty and fear of the compounding effects of the pandemic and school closures on learning for vulnerable students living in the district's most under-resourced areas. The open letter was the culmination of Atlanta Thrive gathering data and input from families in the district who wanted to see change. Atlanta Thrive gained community trust, empowered families through capacity building, transformed data into action, and embodied best practices for centering the Data Equity Principles through the following actions:
Restoring communities as data experts. Recognizing parents and guardians were the experts on their desires for children to have a world-class education, Atlanta Thrive enlisted volunteers to canvas the most under-resourced residential areas in Atlanta to ask a simple question: "What's the issue with your child's education?"
Employing ethical behavior. Atlanta Thrive volunteers canvassed in the most under-resourced areas going door-to-door, reaching more than 10,000 families, and partnered with other trusted nonprofit organizations (NPOS) doing similar advocacy work in the community, such as the Rainbow Housing Assistance Corporation at Seven Courts. They were open and transparent about why they were collecting the information and disclosed potential benefits and risks.
Questioning default methods and assumptions for data collection and analysis. Atlanta Thrive volunteers synthesized the data and organized the information into three topics that concerned families the most: mental health and social emotional learning, academic grade-level readiness, and parent training. It is not surprising that families—the data experts—identified three topics that are inherently aligned to student outcomes. The volunteers' next step was to hold listening sessions called "House Meetings" via Zoom. To overcome the "digital divide," volunteers went into the communities with internet hot spots to host Zoom meetings in community centers and family homes, encouraging participants to invite and remind their neighbors. The listening sessions provided anecdotal and contextual information on what families desired and needed for their children.
Identifying root causes of disparities. Atlanta Thrive discovered that families needed computers and internet access to support education at home. Parents wanted to learn how to engage with the district and advocate for children. Most importantly, families wanted to know how to support their children as they experience death, violence, homelessness, and other adverse childhood experiences.
Disaggregating data to help analyze disparities and guide action. The data from these sessions informed a list of demands submitted to the superintendent. In response, the district identified and administered a universal social, emotional, and behavior screener to all students from pre-K to grade 12 to assess strengths and areas for growth. These data were then disaggregated to identify the groups of students with the greatest need for support.
Promoting inclusion and awareness. APS mailed the screener results to parents, ensuring they made use of straightforward language and data visualizations that were accessible to all families. To help respond to the results, Atlanta Thrive established Care Teams that include students, parents, social workers, nurses, and counselors. When a student's score reflects an extremely elevated risk in areas such as anxiety or depression, the Care Team is activated. A Care Team member contacts the family to identify supports that may be beneficial to the student. Families co-create a plan of action with progress monitoring to determine whether recommended strategies are effective. In addition, Atlanta Thrive established a fellowship focused on capacity building and parent empowerment. Parents learn about the school governance process and how to advocate for children by participating in board meetings.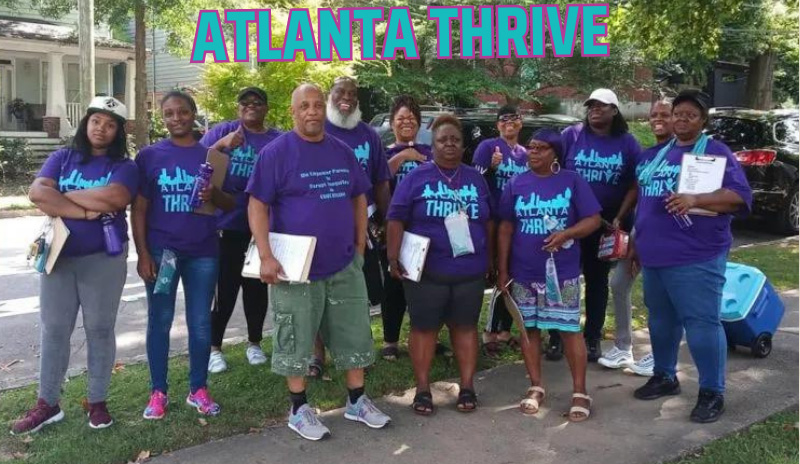 Atlanta Thrive understands that to promote equity, you must seek data from—and with—marginalized and overlooked communities. Simply put, data equity means empowering community members to make better, more informed decisions that translate data into action.
I am grateful for the work of Atlanta Thrive. As a parent of a student in APS, I benefited from their advocacy. I used the results of my child's screener in conversations with Care Team members to discuss my child's feelings and perspectives about the learning environment and what can be done to ensure learning is accessible in a psychologically and physically safe environment. I invite you to review the Data Equity Principles and take a page out of Atlanta Thrive's playbook. Humanizing data to promote equity benefits everyone!
Who Am I, and What Brings Me to This Work?
My name is Adrian Neely. I am a Black woman from a long line of resilient Black women who were highly active in women's suffrage and civil rights movements, shaping my identity and drive for justice, equity, diversity, and inclusion. At Mirror Group, LLC, we conduct evaluations to drive equitable solutions that support highly impacted communities. We capture a broad range of lived experiences and authentic voices in our work. This means our approach is collaborative, participatory, and iterative, while upholding cultural competence, equity, and capacity building. I was excited to partner with Mathematica and the Bill & Melinda Gates Foundation to develop a practical tool, the Data Equity Principles, which align with my mission and values.