Behavior Science and Human Centered Design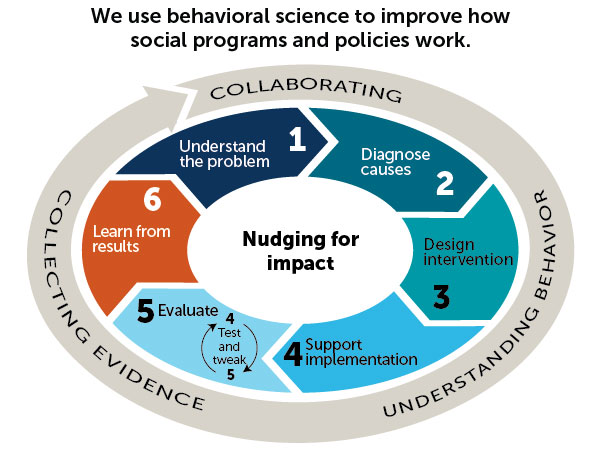 Every day, program administrators struggle with program elements that don't work the way they are supposed to. For example, people often don't access services that are good for them, or they may drop out of programs that help them pursue important goals (like graduating college, saving for retirement, or finding a new job). These puzzling behaviors are often rooted in familiar human tendencies. We procrastinate, forget, get overwhelmed by too many choices, and take mental shortcuts. And we do this because our attention and capacity to process information have limits.
Mathematica helps make social programs and policies better by testing enhancements that are designed to change people's decision making and actions for the better. We work closely with our clients every step of the way to develop feasible, effective solutions. Our six-step behavioral design process is designed to:
Understand:

We partner with our clients to understand the problem they want to solve.

Diagnose:

We map out the behavioral bottlenecks that may be contributing to the problem.

Design:

We design interventions ("nudges") that fit the program context and the available resources, and field-test them to ensure they work as intended.

Support:

We train frontline staff to implement the intervention and provide ongoing support.

Evaluate:

We design rigorous, low-cost evaluation strategies to quickly find out whether the solution works. We collect and analyze data to understand short- and long-term results.

Learn:

We communicate what we find clearly, concisely, and promptly, and suggest next steps.
Behavioral Interventions for Labor-Related Programs

The U.S. Department of Labor (DOL) and Mathematica are working together to apply behavioral science principles to improve programs in three DOL agencies. We found that relatively modest changes made the programs work better and achieve superior results for participants.

Strengthening Relationship Education and Marriage Services

(STREAMS)

Mathematica researchers are testing the effectiveness of behavioral "nudges" by sending text messages to program participants to encourage them to attend group sessions that are part of the Healthy Marriage and Relationship Education program.

Applying Behavioral Insights in Larimer County

Larimer County, Colorado, engaged Mathematica to design and test innovative strategies for delivering higher quality, more efficient services to people who receive Temporary Assistance for Needy Families (TANF). To boost participants' engagement with the TANF program, we are experimenting with new communication strategies that address behavioral bottlenecks such as putting off or forgetting commitments or misunderstanding program rules, materials, or staff communications.

Making Shopping for Schools Easier in the Era of School Choice


Although school choice initiatives have expanded options for students and their families, parents sometimes find it challenging to make effective choices. Mathematica is testing how best to share school choice information so parents find it easy to use and understand. The project analyzes "choice architecture"—the way choices are presented—and the impact of presentation on decision making.