From Inquiry to Insight in 2020
Each year, Mathematica recaps our most impactful work in the past 12 months and examines themes that are likely to have relevance in the coming year. Pulling together the 2020 edition of Inquiry to Insight was a humbling exercise. We could not have anticipated last year how different the world would be in January 2021. For example, a year ago, the U.S. unemployment rate was 3.6 percent. Little did we know that it would reach 14.7 percent in April and remain in the double digits through July. In 2019, a search for "COVID-19" or "coronavirus" on the Mathematica site would have turned up no results. Today, we have more than two dozen blog posts, podcasts, recorded webinars, online data visualizations, reports, and project pages dedicated to the global response to the pandemic.
Although COVID-19 was a surprise, the social, economic, and health inequities it exposed were not. Another dominant theme of 2020 was the heightened awareness of racial, social, and economic inequality. The disturbing deaths of George Floyd, Breonna Taylor, Tony McDade, and others, as well as the activism they have inspired, exposed discriminatory systems, policies, and practices. These events gave new urgency to our partnerships to shape a more equitable and just world. From expanding access to high quality child care, to ensuring all K–12 students receive effective instruction, fulfilling Mathematica's mission to improve public well-being will require that we understand and address the root causes of inequality. Events from the past year also underscore the importance of continuing our internal diversity, equity, and inclusion efforts to ensure Mathematica provides a welcoming and supportive environment for all employees.
Over more than five decades, Mathematica has continually adapted to the changing world. What has remained constant is our steadfast focus on using the best available science and technology to uncover insights and to empower decision makers to respond quickly and confidently to new challenges.
COVID-19: Scaling Response, Guiding Recovery, and Building Resilience
With the first wave of COVID-19 infections in the United States, state and local governments, health care providers, and other decision makers needed data and tools to predict demand and direct resources. We responded by curating and sharing a list of data sources, analytic tools, policy options, and other information from publicly available resources. We also worked with the National Association of Health Data Organizations to share resources in a series of webinars. These resources included a COVID-19 Primer we created to help researchers, data scientists, and others who analyze health care claims or administrative data quickly join the effort to better understand, track, and contain COVID-19.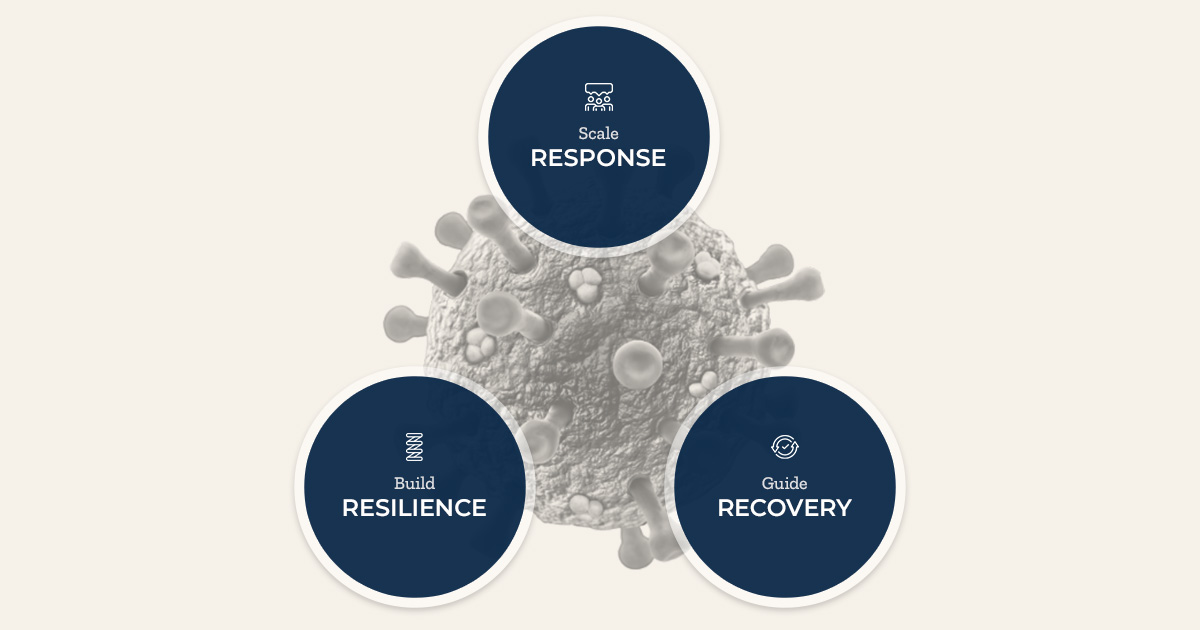 As the scope and severity of the pandemic became clear, we joined our government and philanthropic partners to scale their response to COVID-19, guide recovery, and build resilience. Mathematica recognized that technology for collecting, storing, and sharing data would be critical to effective contact tracing. It also became clear that contact-tracing programs would need to reckon with cultural, language, and economic variation that would require thoughtful approaches to hiring and training contact tracers in each community. Such a far-reaching crisis has implications for every corner of society, from individual citizens, to hospitals, to state and local governments.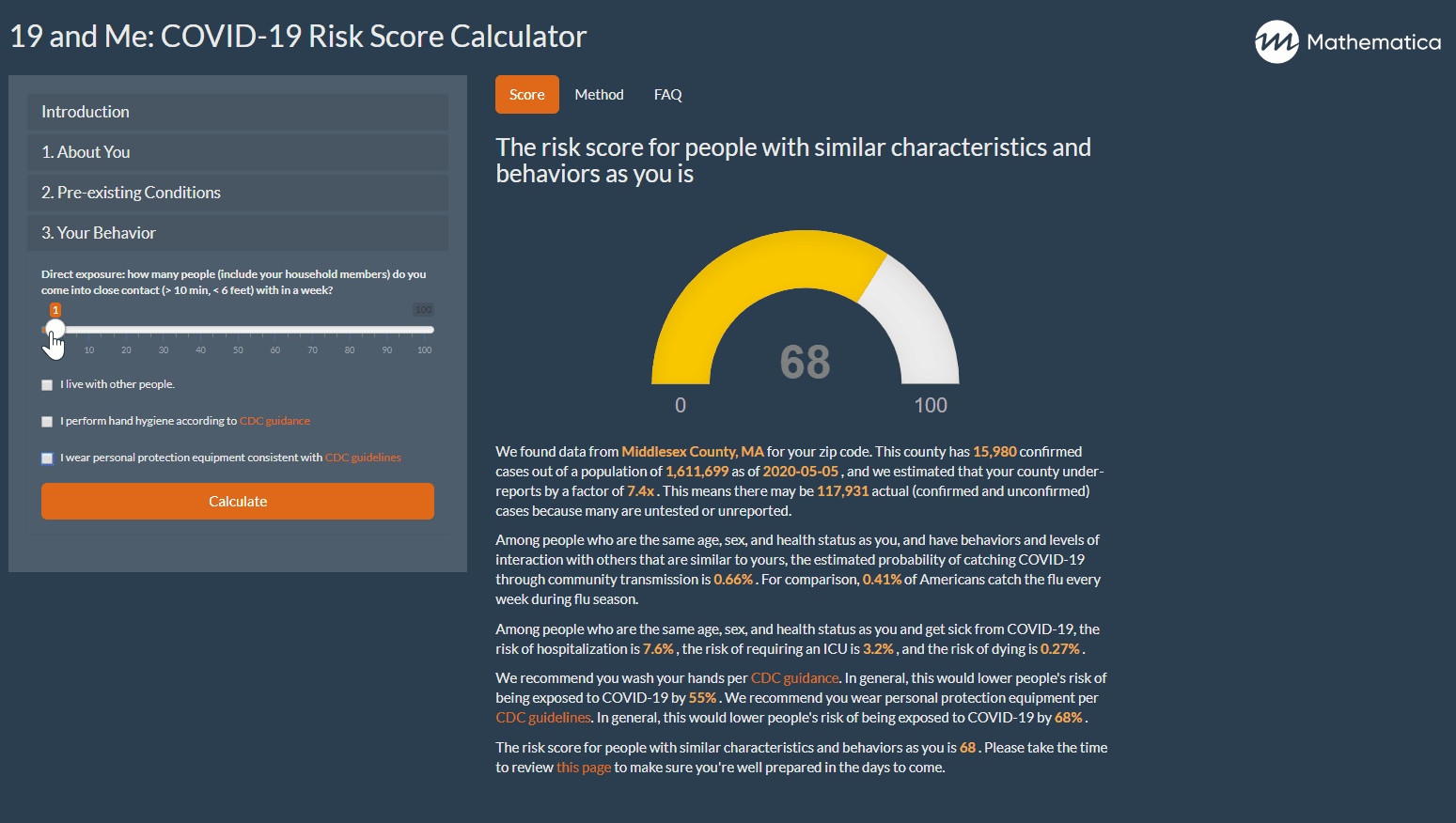 Recognizing the importance of accurate and timely information in making decisions during the pandemic, we created the 19-and-Me risk score calculator to help individuals estimate the risk the disease poses to them. The calculator has been featured in articles on Leapsmag and in Nature.
To support states and localities as they refine their approaches to contact tracing for COVID-19, we worked with the National Academy of State Health Policy to create an interactive, online repository of COVID-19 contact-tracing programs in every state that captures information on hiring and training strategies, funding, technological innovations, and more. The web tools have become go-to resources for the media, state and local health officials, and staff from the Centers for Disease Control and Prevention, who have visited the sites and inquired about their content.
In a video chat, Mathematica's Holly Matulewicz and Sule Gerovich joined Jill Rosenthal and Elinor Higgins of the National Academy for State Health Policy to discuss patterns and trends in state approaches to COVID-19 contact tracing.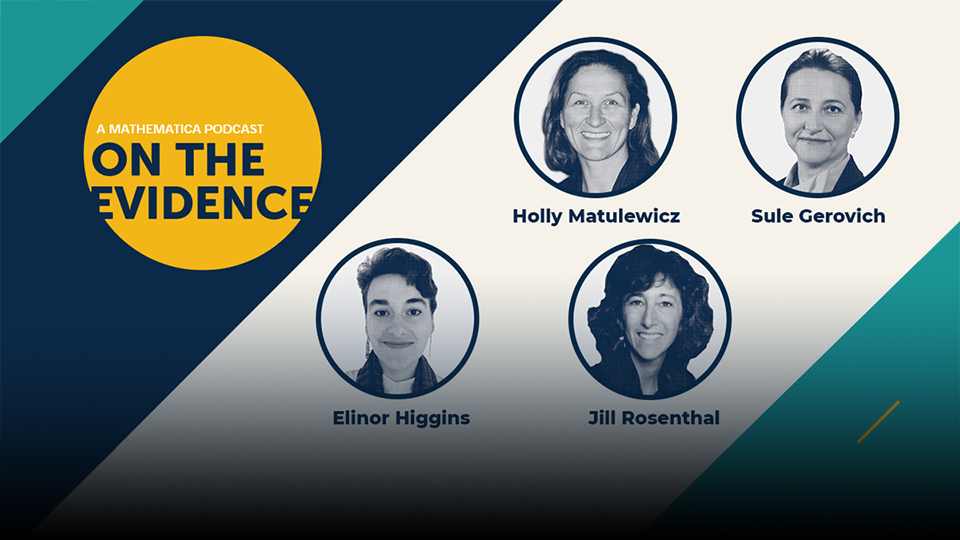 Understanding the Variation in States' COVID-19 Contact Tracing Approaches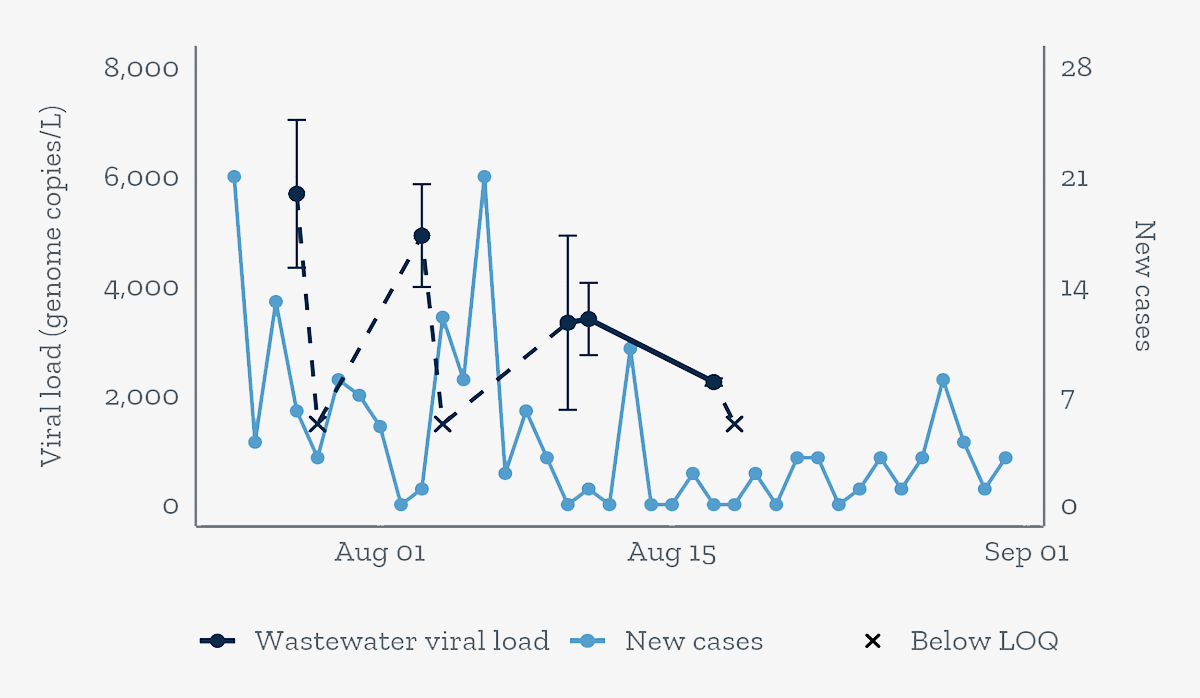 For Jackson County, North Carolina, we demonstrated that wastewater testing can provide early warning signs to alert local authorities to a potential rise in infections. This four-week pilot project received local media coverage from Blue Ridge Public Radio, Mountain Xpress, and Crossroads Chronicle, as well as the official publication of the North Carolina Association of County Commissioners, CountyQuarterly. It also motivated the Dogwood Health Trust to fund an expansion of COVID-19 wastewater testing in an additional rural county in western North Carolina through spring 2021.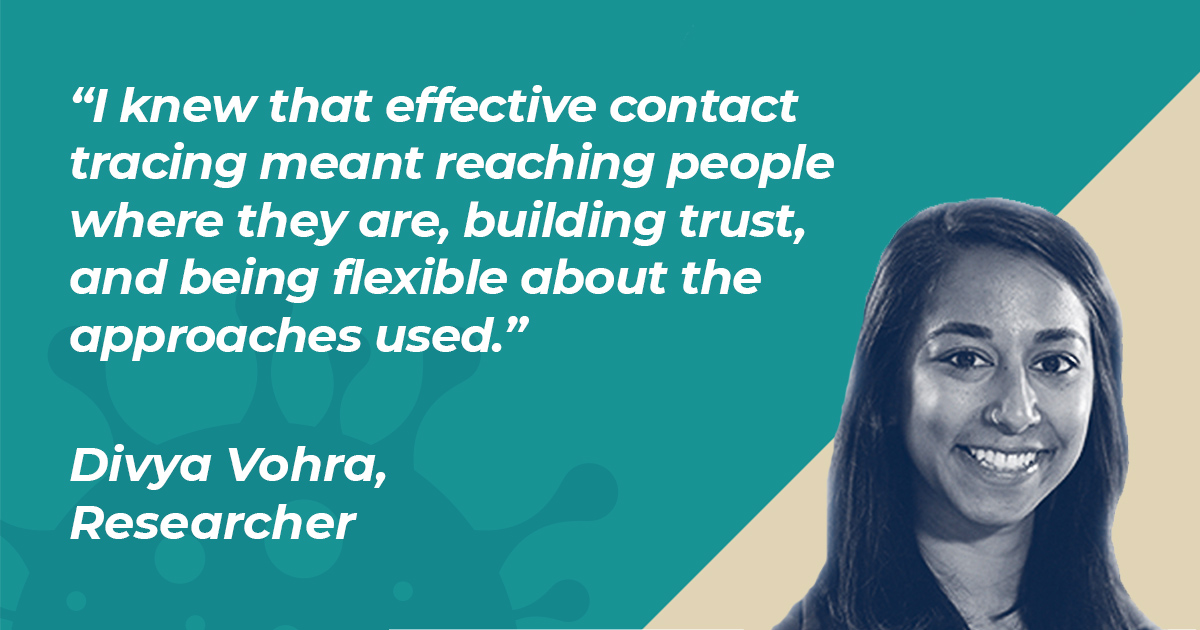 We were also proud to lead a partnership supporting Washington State's contact-tracing program. Our efforts to incorporate technology and cultural sensitivity into contact tracing led to a national discussion among philanthropy, government, and policy research leaders about how to apply the same principles for effective and equitable programs across the country.
Beyond the immediate needs of public health departments, communities across the country are looking for objective, science-based guidance on how and when to allow in-person interaction in spaces hard-hit by the pandemic, such as schools and long-term care facilities. We partnered with the Pennsylvania Department of Education to use agent-based modeling to predict the spread of COVID-19 in schools. This approach helped leaders in school districts across the state use the best available public health information to make difficult decisions about if, when, and how to resume in-person learning. More than 20 school districts and three charter schools in Pennsylvania, plus the state departments of education in Oregon and Mississippi, referenced our research in public documents related to reopening schools.
We studied the impact of COVID-19 on Connecticut's nursing homes and assisted living facilities and briefed lawmakers on our findings in a series of committee hearings. The state followed our recommendation to create a mechanism, such as an online portal, that matches staffing needs with potential staff. It also followed our recommendation to prioritize long-term care residents and staff in receiving COVID-19 vaccines. We identified policies and practices implemented during the crisis that could help states across the country keep long-term care workers and residents safer in the future. We summarized our COVID-19 response strategies for long-term care settings in a short blog, and we convened a national panel of experts to discuss how states could prevent future outbreaks while better attending to the psychological and emotional well-being of residents.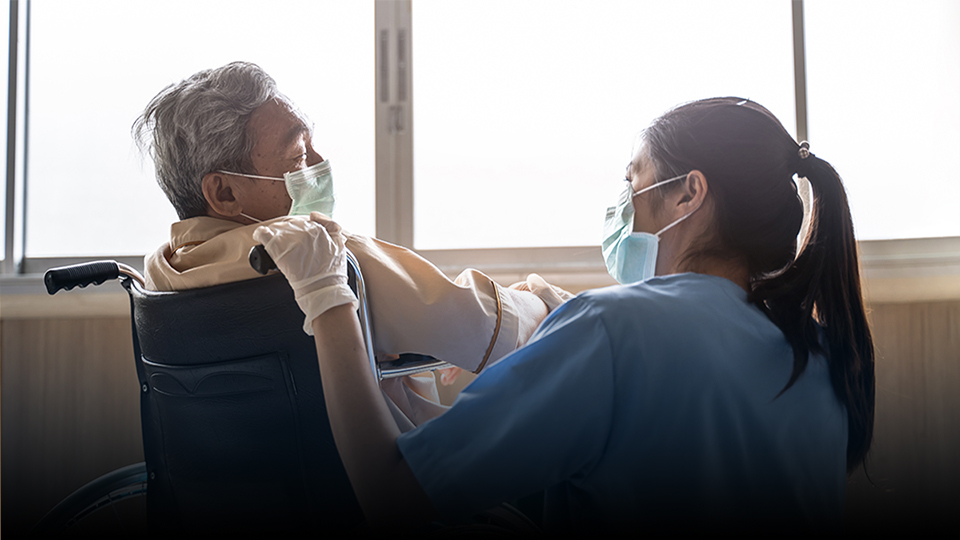 Applying Evidence to Inform State Responses to COVID-19 in Nursing Homes and Long-term Care Settings
Making Progress Together on Race, Social Justice, and Equity
Using Digital Technology to Increase the Speed, Security, and Scale of Research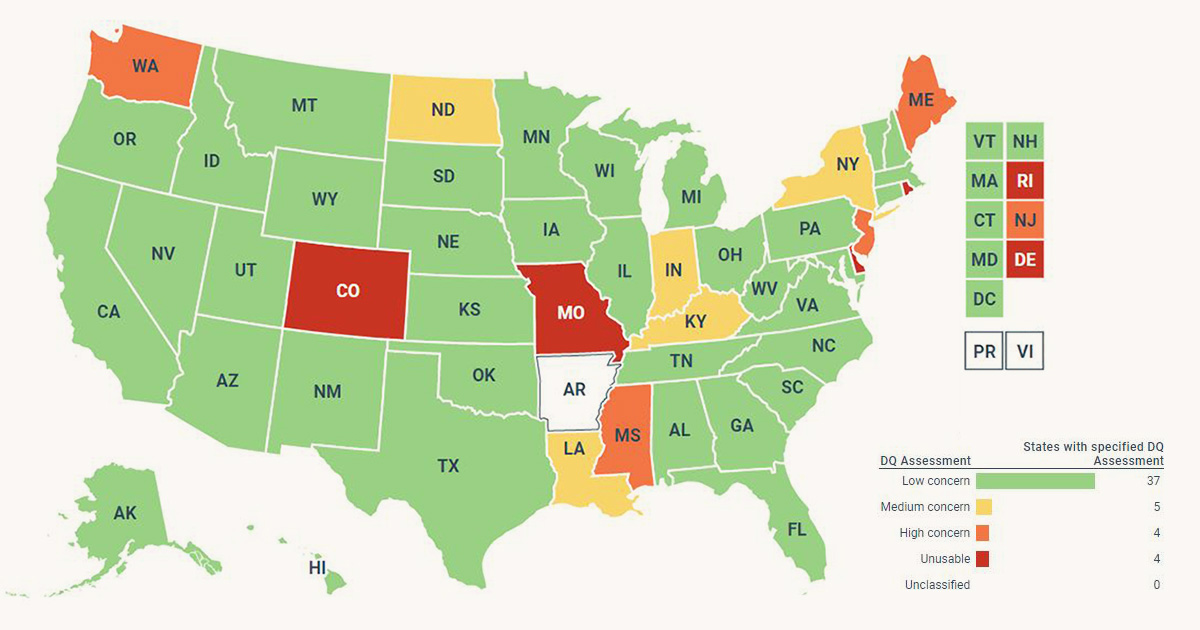 In 2020, Mathematica took another important step in its journey, boosting its longstanding strength in public policy research and analysis with advanced and scalable technology. These resources improve the quality and depth of insight available in the vast amount of data we steward for our clients, and enable us to collect and examine that data more quickly. As new needs emerge, our growing bench of data scientists and programmers are building interactive maps, dashboards, and other tools that put community leaders in the driver's seat. They are asking questions informed by lived experience and using insights to enact change. In partnership with the Centers for Medicare & Medicaid Services, we introduced the DQ Atlas. This online tool enables policymakers, researchers, and others who want to use timely administrative data to conduct insightful, methodologically sound analyses of Medicaid and the Children's Health Insurance Program.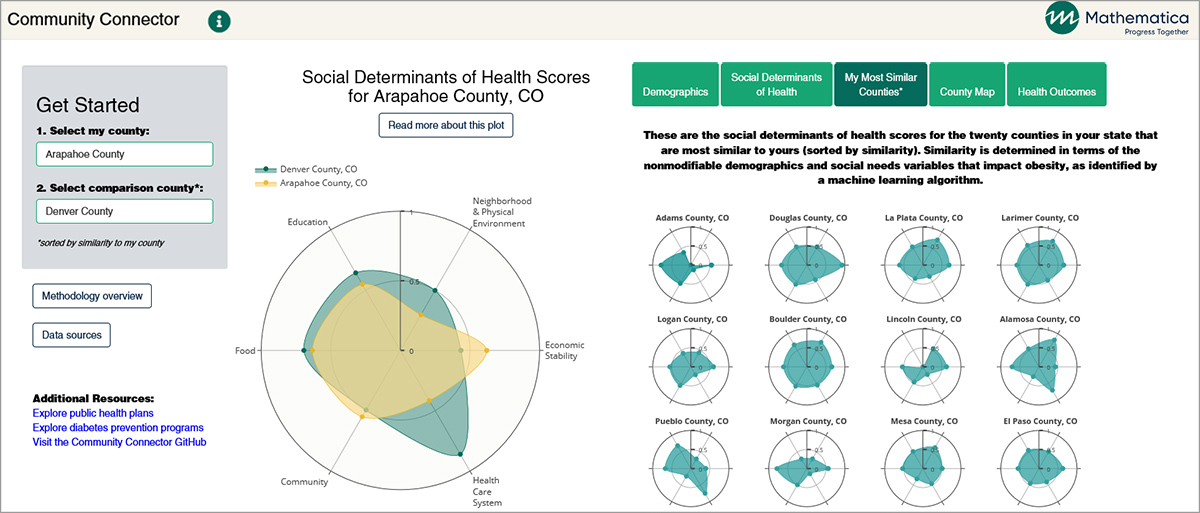 As part of a national competition hosted by the federal Agency for Healthcare Research and Quality, we created a prototype of an interactive dashboard where users can compare social determinants of health data across counties in Colorado. We hope the tool will draw attention to recent local social determinants of health initiatives, encourage innovation, foster peer-to-peer learning between counties, and identify promising practices in this area.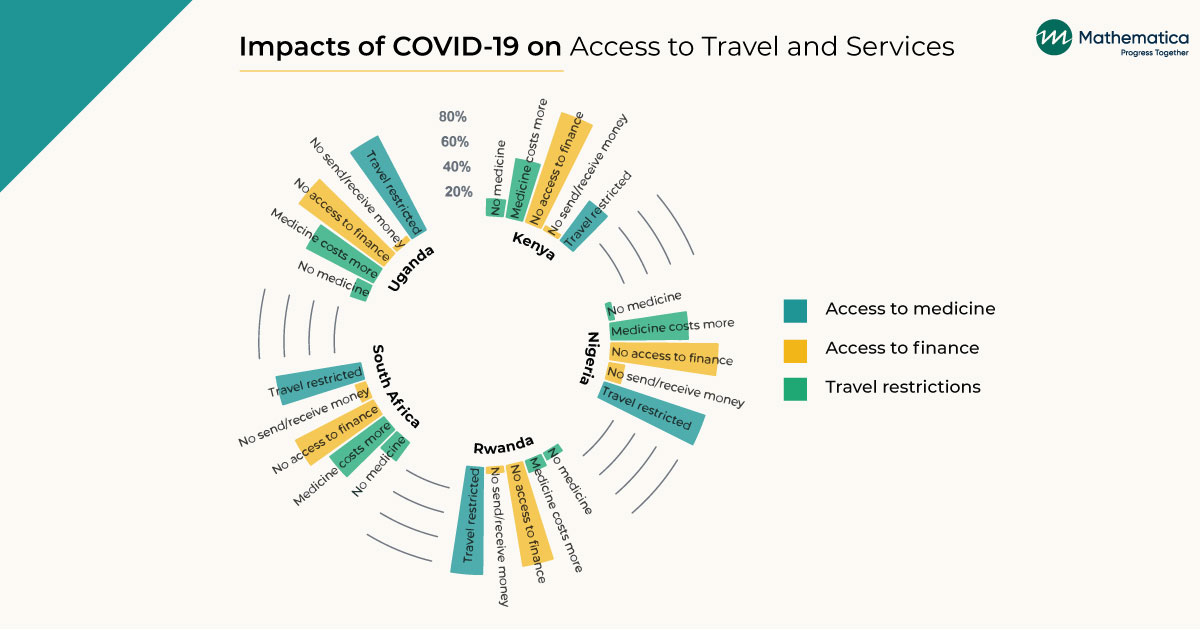 When COVID-19 became a global and national public health crisis, we used the same types of interactive web tools to visualize trends in school-closure policies across the country. In addition, we looked at how COVID-19 is shaping access to services and mobility restrictions, and its early impacts on food security and income in five African countries. We also pivoted to working virtually with our international development clients and partners around the world. We have used phone surveys, Skype, Zoom, and other platforms to ensure the seamless continuation of important research on what works to improve the financial and physical well-being of the world's most vulnerable populations. As we applied new digital tools to research questions, we were guided by the company's principles for prioritizing security, privacy, and ethical use of data.
2021 and Beyond
The past year has been an important reminder that much of the future is difficult to predict. We know with certainty that data and evidence will be critical to effectively supporting the health, safety, and well-being of people in the United States and abroad. Mathematica is ready to uncover practical, timely, and relevant insights to address the challenges of today and tomorrow in lockstep with our partners around the world.